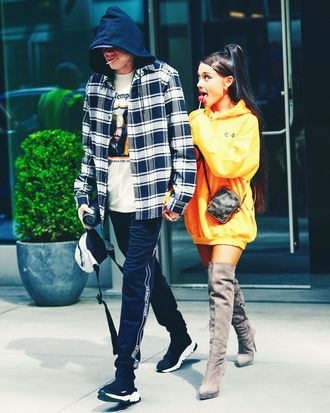 In simpler times.
Photo: Gotham/GC Images
It somehow feels both like yesterday and an eternity when the whirlwind romance of Ariana Grande and Pete Davidson was happening in our lives. Theirs was a love of spontaneous tattoos, micro pigs, and BDE, but perhaps no image better captures their relationship than the two of them enjoying their respective lollipops (which Trey Taylor first pointed out on Twitter, happened almost exactly one year ago today.) Can somebody run by the grocery store and pick up a sheet cake? We're celebrating the anniversary of this legendary lollipop.
That week in June 2018 was monumental for Grande and Davidson's relationship. They announced their engagement, got tattoos together and Ariana revealed a track on Grande's Sweetener album called "Pete." Things got a little more complicated from there. Davidson made a crude joke about switching Grande's birth control on SNL and covered up one of his tribute tattoos to her. In September, Mac Miller, Grande's ex died, and things between the couple never recovered.
By the time Halloween rolled around, Grande and Davidson had broken up and ended their engagement, but the lollipop moment would live on. Grande's outfit, thigh-high boots, a bright yellow hooded sweatshirt-slash-dress, her signature ponytail, and the aforementioned lollipop, became a popular Halloween costume. There was a good chance at least one person in your Instagram feed would be dressed like the couple, or at least Ariana.
And so, one year later, we look back on this relationship that was sweet, intense and brief. Kind of like a lollipop, I guess?