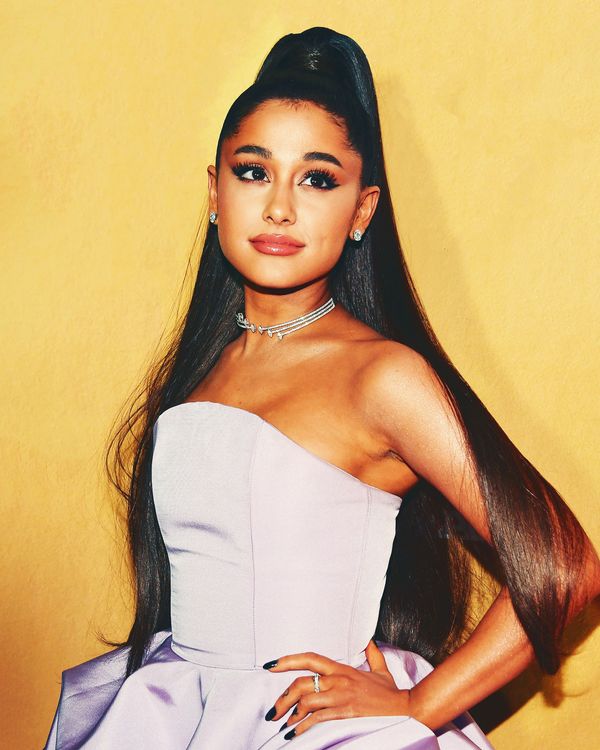 Ariana Grande.
Photo: Dia Dipasupil/FilmMagic/Getty Images
I have known true suffering, and it is from wearing Ariana Grande's ponytail for one night.
I'm no stranger to pain. I've had cavities drilled without Novocaine when the dentist ran out. In the eighth grade, someone on my own field hockey team smashed me in the face with a stick while swinging back for a drive. And I'm a woman, so there's that dull monthly ache. But nothing has compared to the water-drip torture of wearing Grande's signature hairstyle for a few hours.
The agony started Tuesday night, when Sephora Collection kindly invited beauty editors to get Ariana-ified prior to her Madison Square Garden concert. A makeup artist gave me Ariana's cat-eye flick using Sephora Collection Long-Lasting 12 HR Wear Eye Liner. Then, "Do you want beach waves or … ?" the hairstylist asked, trailing off and gesturing to the shiny, smooth removable ponytail pelt dangling from her fingertips.
"Is that going to hurt my head?" I asked. I'd read Camilla Cabello's tweets. After trying a high ponytail for the first time at this year's MTV VMAs, the singer spent the entire red carpet rubbing her temples. "I just did a high ponytail for the first time and it is literally pulling on my BRAIN ITS SO PAINFUL HOW DO YOU DO IT @ArianaGrande," she tweeted.
With two bobby pins, the stylist secured the 20-inch silk hair sheath around my real hair, then pasted down any flyaways with cold mists of hairspray. At first, it was glorious. I felt like I was wearing a luxurious shawl made of Barbie hair. It cascaded from the crown of my head, breaking over my shoulders and tumbling to the middle of my back. With my hair brushed upward from my cheekbones, the ponytail seemed to pull up my whole face, making my eyes look more catlike and coquettish. I did a hair toss and felt like Sailor Jupiter.
But I came crashing back to reality when a friend said something funny. I tried to laugh, and my temples wouldn't let me. I could barely smile.
At the concert, Ariana sang all her bops while wearing suede over-the-knee boots with a three-inch heel. Her butt-length ponytail hovered around her like a helpful Disney animal sidekick. She flicked it back as it shimmied with her dance moves to "7 Rings."
As for me, I was beginning to understand why people called this kind of ponytail "snatched." I felt like it was snatching my brain. My temporal bones began to throb with high-intensity cramps. I tried to loosen my hair, but the hairstylist had done too good a job. Nothing budged.
I started doing "migraine pose" — not because I was trying to look cute, but because I was trying to stop the ponytail from destroying my cranium. I even tried to self-soothe by petting my hair, but it didn't help. How could Ariana sing 28 songs without any backup singers in this state, when I could barely manage to eat a chicken finger while sitting down?
The second I got home, I began taking out bobby pins. In about two minutes, my Ari tail was broken down and I could move my face again. I hadn't experienced such joy since taking off my training bra for the first time.
Ariana Grande has had an incredibly emotional, painful few years. After merely experiencing her hairstyle for a few hours, I want to say that we do not give her enough credit.