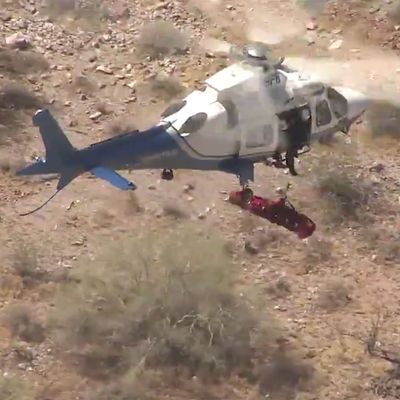 Ahhhhh!
Photo: @FOX10Phoenix/Twitter
If you've seen the movie Grizzly Man or walked outside on high-pollen-count days, then you know that nature is cruel and unforgiving. But it is only when you encounter the world of man that you will know the capacity for true darkness. This, I believe, is the true lesson of the totally bonkers helicopter rescue that happened in Arizona yesterday.
A 74-year-old woman who was injured while hiking on Piestewa Peak was airlifted to safety — but not before enduring a harrowing minute of out-of-control spinning while suspended in midair. For those who haven't seen the video yet, gird yourselves, because it is fully much worse than you're imagining:
It has since gone viral for reasons that are entirely obvious. During a press conference, the chief pilot of the Phoenix police department's aviation unit Paul Apolinar explained, "Sometimes when we bring the helicopter up from the ground, it will start to spin, so we have a line attached to the basket to help prevent that. Today it didn't. The basket started to spin."
"They tried to stop some of the spin with the line that Paul was referring to, but that didn't work and it eventually broke," Derek Geisel, the helicopter pilot for this particular rescue, added. According to Fox 10 Phoenix, "the phenomenon is known in the hoist-rescue industry."
The woman is okay, save for some slight dizziness and nausea, while my lifetime commitment to never ride in a helicopter has been reaffirmed.