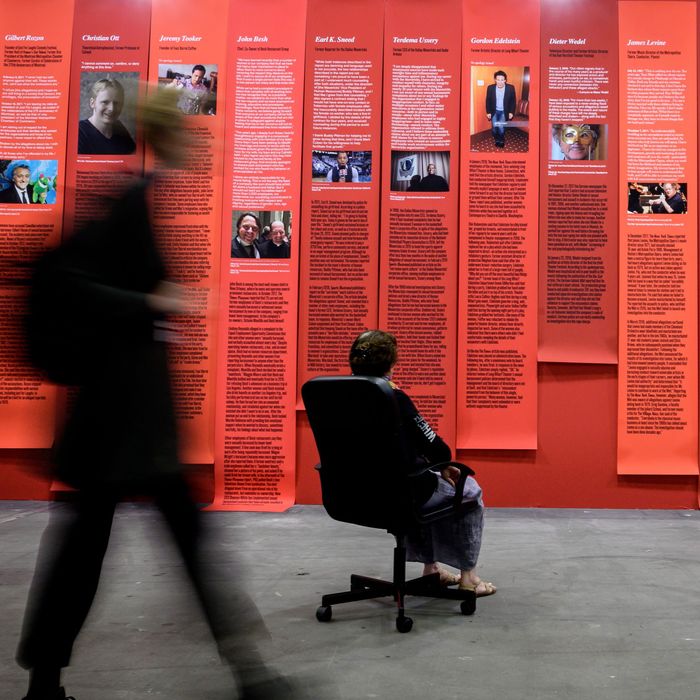 Andrea Bowers's
Open Secret
.
Photo: FABRICE COFFRINI/AFP/Getty Images
Leading up to this year's Art Basel Unlimited, Artnet News identified what it believed would be the fair's "biggest conversation piece" in the section dedicated to museum-scale installations: artist Andrea Bowers's Open Secret, a massive piece of work documenting hundreds of men to be accused of sexual misconduct during the #MeToo movement. Even before the public start of Art Basel, Bowers's work has certainly generated discussion — just not in the way that the website predicted.
On Monday, writer Helen Donahue said in a series of tweets that the artist had used graphic photos of bruised face and body, as well as the story of her sexual assault, in her installation without Donahue's consent. Donahue had posted the images on her own Twitter in October of 2017, saying that she'd suffered the injuries at the hands of an unidentified man in media whom she and three women later identified to Jezebel as Michael Hafford, a former freelance columnist at Vice's now-defunct Broadly vertical. When Donahue learned that her story — and those of Hafford's three other accusers — would soon be featured in one of Art Basel Unlimited's most anticipated installations, she said she was horrified.
"cool that my fucking photos and trauma are heading art basel thx for exploiting us for 'art' ANDREA BOWERS," Donahue tweeted. "DO YOU KNOW HOW FUCKING INSANE IT IS TO FIND OUT MY BEAT UP FACE AND BODY ARE ON DISPLAY AS ART RN FOR RICH PPL TO GAWK AT."
Open Secret, which is set to make its public debut tomorrow at Art Basel in Switzerland, seeks to "[serve] as both a physical manifestation of patriarchy and a monument to the courage of survivors who are speaking out against sexual harassment and assault," per an Instagram posted by Andrew Kreps, the New York gallery representing Bowers. According to Artnet News, it is priced at $300,000.
Donahue's tweets resulted in widespread outcry on Twitter, with many expressing disgust over the blatant exploitation of a rape survivor's trauma. "imagine taking pictures of the physical abuse someone inflicted on your and they end up in some 'feminist' art without anyone contacting you or checkin with you," Desus & Mero associate producer Muna Mire tweeted. Even Top Chef host Padma Lakshmi condemned the installation on Twitter, writing, "This is exactly the opposite of what the #metoo movement is about."
(Donahue did not respond to the Cut's request for comment by time of publication.)
Deirdre Coyle, who, in the same Jezebel report, accused Hafford of physically forcing her to do cocaine during sex, said it was "very surreal" to see her name in the art installation — and even more upsetting to see the story of her assault conflated with that of another woman who made allegations against Hafford.
"It felt deeply exploitative," she told the Cut. "And while I believe Bowers's work is well-intentioned, to use women's names and stories — and in Helen's case, photographs of her face — without their consent in a work about consent strikes me as irresponsible at best."
In a statement provided to the Cut by Andrew Kreps gallery, the artist apologized to "the survivor whose image was included in my piece," claiming that Donahue's photographs will be removed from the installation. (A spokesperson for Art Basel confirmed to the Cut that the panel has been removed at the artist's request.)
"I should have asked for her consent," Bowers's statement continued. "I have reached out privately and am very much looking forward to listening."
The four galleries around the world that represent Bowers — Andrew Kreps, Kaufmann Repetto, Vielmetter Los Angeles, and Capitain Petzel — told the Cut in a joint statement that they apologize to "the survivor pictured in the piece," but "stand by Andrea Bowers and her work, and support the conversation that has only just begun."
But Coyle thinks there's more that could be done. In her "honest opinion," she thinks that if the artwork sells, Bowers could start by donating the $300,000 "to charity or evenly distributed among every survivor named in the installation."
"I mean, yesterday Bowers's Twitter avatar — she's since changed it — was an image of her holding a sign that says, 'Who profits?'" she told the Cut. "It's a great question."