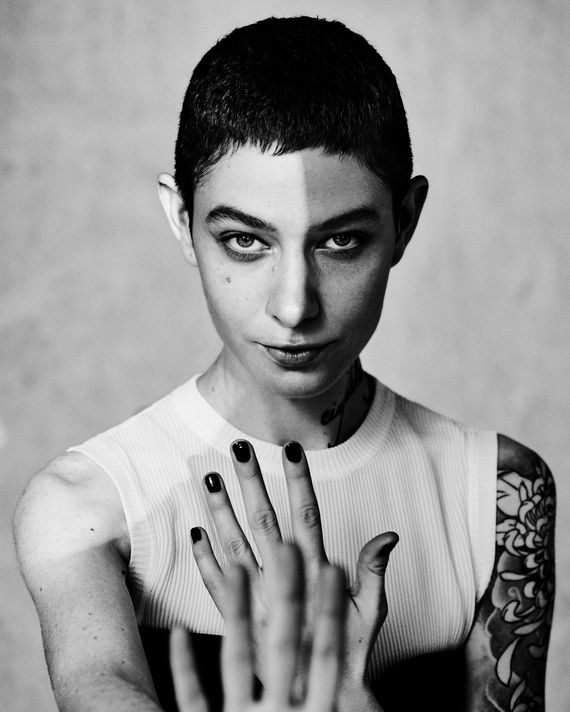 Derek Lam
top, $390, at
dereklam.com
;
Prada
bustier, $920, at 575 Broadway.
Photo: Elizaveta Porodina
I've barely spent five minutes with Asia Kate Dillon when I make the precise mistake I was trying to avoid. We're talking about their dog, a 20-pound poodle-beagle-terrier mix named Herbert, when I tentatively ask where the actor adopted him.
"My dog, I just call Herbert or buddy," Dillon amiably corrects me, after telling me Herbert came from Craigslist. "I do think it's fascinating though that primarily the first question when one asks about Herbert is, is Herbert a boy or a girl? As if the context is needed for them to understand something greater about the dog."
That Dillon has both carefully considered the dog's gender identity and is explaining it to a complete stranger shouldn't exactly come as a surprise, since they're arguably Hollywood's most famous nonbinary actor, one whose star turn came on an unlikely television series: Showtime's aggressively macho financial drama Billions, in which Dillon plays intern savant Taylor Mason. Taylor introduces themselves to their hedge fund manager boss with "my pronouns are they, theirs, and them" — a sentence that may be commonplace in college classrooms but is rarely, if ever, uttered in Wall Street boardrooms. Dillon also plays a nonbinary (though less explicitly so) villain "The Adjudicator" in the third installment of John Wick action franchise. The roles have helped make Dillon an emissary of sorts for the nonbinary, praised for "making history" and "blazing a trail," making news for entering the Emmys race in the "best supporting actor" category, inspiring MTV to combine the "actor" and "actress" categories for their annual Movie & TV Awards, and publicly elucidating the particulars of their gender identity for everyone from Ellen DeGeneres to Khloé Kardashian. "If I'm given a microphone or ten minutes to speak, those are the things that I'm going to speak to you," Dillon says.
Dillon, 34, may be somewhat of a visual anomaly in the alpha-male worlds they inhabit onscreen, but here in Williamsburg, Brooklyn, they blend right in. When we meet for lunch at a local hipster-friendly Chinese restaurant the week before the premiere for John Wick: Chapter 3 — Parabellum, Dillon is wearing the quintessential casual uniform for young Brooklynites, regardless of gender: all-black jeans, T-shirt, and sneakers, paired with an oversize denim jacket and a WNYC tote. They sum up their personal style as "I want to be comfortable above all else — I'm pretty much always wearing a sensible sneaker," though they say they've been dipping back into stereotypically feminine clothing since coming out as nonbinary because "that didn't make me feel like I had to be a girl or a woman, just because I was wearing a dress or a skirt or a full face of makeup." Dillon's trademark buzzcut is a couple of months grown out and their face is bare save for a swipe of black eyeliner on the bottom lids of their blue-gray eyes — eyes which John Wick 3 director Chad Stahelski told me were "the best in the movie," capable of putting up a "physical force field."
In person, Dillon is warmer than I'd expected, given the exaggerated intensity they give to their characters. The word "gosh" peppers their speech (17 times during our hour together). They refer to their partner, a nonbinary playwright, as their "sweetheart." (For instance, when explaining why they use a flip phone: "if my sweetheart and I are going out on a date or whatever, I'm not even tempted to check anything.") There's a mildly dorky, eager chattiness about Dillon, as exhibited when they cheerfully walk me through their many tattoos, including giustizia — justice in Italian — on the exterior of their right forearm, "what you will" — the alternate title for Shakespeare's gender-bending play Twelfth Night — tucked inside, "born ready" on the same place of their left arm. And then there's the pièce de résistance: a bold, swooping, fillegreed einfühlung — the German word for "empathy" — on their neck. "It's in a foreign language and it's big and on my neck, so unless you speak German, most people ask me what it means," Dillon says. "And then I'm engaging in a conversation about empathy whereas, if it's just empathy in English, we don't have to talk."
Before Dillon set out to be Hollywood's leading nonbinary empath, they grew up in crunchy Ithaca, New York, with an artist mother who named her child after the English prog rock band Asia. ("Heat of the Moment" was lighting up the airwaves at the time.) Dillon started acting in school plays. They went to a small alternative public high school, the sort of place where you call your teachers by their first names and don't have to ask for permission to go to the bathroom. It was around then that Dillon, who was labeled female at birth, began to outwardly call themselves queer. From a very young age, they tell me, they had been questioning their gender but their sexual orientation was a whole different challenge. They tried coming out as a lesbian, but that didn't feel quite right, nor did saying they were bisexual. They now identify as pansexual, saying they are "a human being who is attracted to other human beings."
Dillon moved to New York City at 17 to study acting only to be run-down and burnt out by 24. "I was young and I didn't have a full sense of who I was," says Dillon. "I'd find myself in auditions and think, like, gosh, this is just not me." Meanwhile, Dillon was working grueling restaurant shifts, drinking too much coffee, and barely sleeping until their "body basically shut down." So they packed it in and went back to their mom's house in Ithaca, where they slept, hydrated, and stretched, slowly getting back into acting by working at a community theater. At 28 — around their Saturn Return, they point out — Dillon decided to make another go of New York. "I remember feeling like there was something inside of me that knew that whatever was going to happen for me was going to happen when I was older," Dillon tells me. "I just remember thinking like, if it doesn't happen for me until 30 or 34 or 40, it's okay."
This time around Dillon booked a few bit parts, like on the sitcom Younger, where they carry a couch out of a flea market for approximately two seconds and say the line "it's so normcore." In 2016, they got a role on Orange Is the New Black as a wisecracking white supremacist. Soon after, came Billions.
The role turned out to not just be educational for viewers — it was Taylor who helped Dillon clarify their own identity. By then, Dillon had already thought of themselves as gender-fluid, but when they read the description in the script of Taylor as "female gender nonbinary" — as in, someone who was considered female at birth but doesn't identify with either gender — something immediately clicked. "I was like, that is how I can release she/her pronouns," they explain. "I don't have to change my body in order to be valid as a nonbinary person."
Billions was always brash, devious fun — the story of a high-stakes power struggle between hedge-fund-manager Bobby "Axe" Axelrod (Damian Lewis) and U.S. Attorney Chuck Rhoades (Paul Giamatti) — but it was the introduction of Taylor in season two that elevated it beyond your dick-swinging Wall Street drama. (Billions co-creator Brian Koppelman got the idea for the character after both of his teenage children mentioned having to give out their preferred pronouns.) Taylor starts off as a hedge fund intern who's so uneasy with the hedonism of the financial world and the implications of their work that they don't want to take a private jet because of the carbon footprint. Lest you think the character exists solely to serve some liberal fantasy about the importance of representation, by the start of season four, Taylor has become a ruthless competitor to their ex-boss and mired in the same moral ambiguity as everyone else on the show — an arc that developed in part because Koppelman and co-creator David Levien were so impressed by Dillon's performance. "The idea that the character would be a protégé of Axe's is definitely where we started," Levien told me. "That the person would be an equal and sort of a rival to Axe, we weren't 100 percent sure of because you're not sure that you have somebody that could credibly stand in with Damian Lewis's version of Bobby Axelrod. But when it became clear that we had somebody who was formidable enough, then we were able to go in that direction."
Taylor quickly became a fan favorite. When the character was introduced, a representative from Showtime asked Dillon how much they wanted their personal story to be part of how Taylor was discussed publicly in the press — and Dillon wanted to go all in. "Right from the beginning, I didn't feel any kind of pressure or like, Oh my God, what did I get myself into? Because I felt immediately like the autonomy was mine," they tell me. "And then, on top of that, I spent almost 32 years not living in the full truth of my experience. I was more than ready to talk about it as much as I could, engage with my newfound community, and really just live fully in my truth for the first time in my life." Despite this eagerness, Dillon is quick to demur on being called a trailblazer. "I am one part of the community, whose visibility would not be possible without the work that had been done before me by the people who continue to be the most marginalized from the movement," they say, picking at a heaping plate of vegetarian lo mein. "That trail existed long before me."
They have, at the very least, introduced the concept of being nonbinary to viewers who might not otherwise be entrenched in discussions of gender identity. I remember once texting with my mom, an avid Billions fan — who is also 58 years old, lives in the suburbs, and mostly talks to my dad — and erroneously referring to Taylor as "she," at which point she reminded me to use "they." Twitter users frequently send Dillon messages like "I am older and conservative. I appreciate your helping me understand better, non binary [sic]." As we're wrapping up our meal, a scruffy, vaguely bro-ish 30-something dad eating at the restaurant with his young children bashfully approaches our table to thank Dillon for their work.
The flip-side of this type of visibility for an actor, of being known for one highly specific trait and type of role, is the risk of getting pigeon-holed. Dillon isn't concerned about that. They have too many other projects in the works. In 2016, they started a production company, Mirror/Fire, to "support and uplift historically marginalized and historically disenfranchised people." (Dillon is a vocal Black Lives Matter supporter.) They're just starting to record their first EP, with a sound they describe as an amalgamation of Stevie Wonder, Nina Simone, Bob Dylan, Joy Division, Billie Holiday, John Coltrane, and … '80s stadium rock. "I feel comfortable saying no to a job because I know what it's like to not have money," they tell me. "I'm not afraid to go and pick up restaurant shifts again, in order to maintain my own morals." They don't want to play another version of Taylor again, for instance, or dive into anything that doesn't immediately excite them. When they're reading scripts now, they're mostly lead by a gut feeling.
Or, more succinctly: "If it's not a fuck yes, it's a no."
After lunch, we amble over to a place they want to show me, an apartment they lived in when they were 21 years old, quasi-affectionately nicknamed "The Hole." Dillon has lived in a total of 36 spots in NYC, but this one was special: a now-abandoned storefront, a puny standalone in an area now overrun with towering luxury high-rises. "That time I would probably describe as one of the darkest. I was working in restaurants that I didn't like working in. I didn't have any money. New York City for me also felt very isolating," they tell me. "I certainly hadn't come into an understanding of my gender identity. Looking back, I think that was really difficult for me, particularly living in a small, dark, dank, moldy cement square." They like to visit it whenever they're in the neighborhood, mostly to see if it's still there.
"When I go back and I look at it now, I'm really proud of myself for making it through that," they say. "To be in a place where I can walk up to that building and not have to go inside because that's where I live."