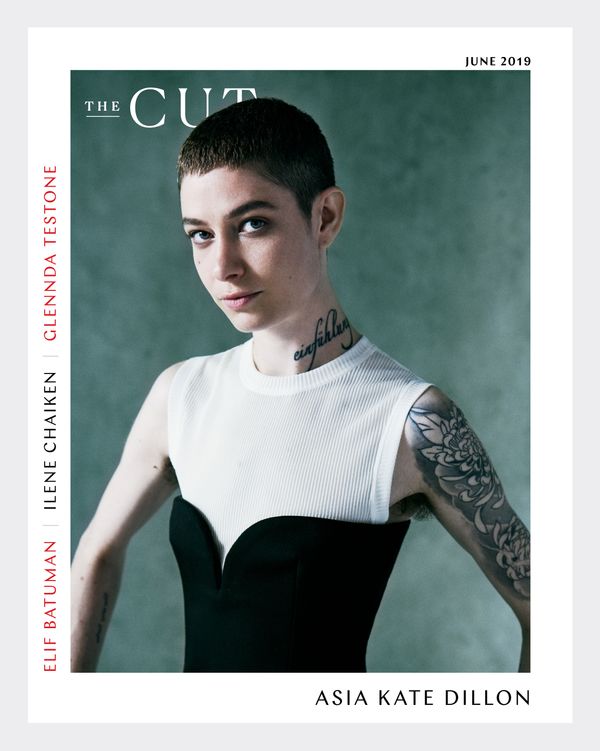 Derek Lam
 top, $390, at 
dereklam.com
; 
Prada
 bustier, $920, at 575 Broadway.
Photo: Elizaveta Porodina
In the wise words of drag queen Sasha Velour, "Gender is a construct. Tear it apart!" And for the Cut's cover star for Pride Month, who better to feature than Showtime's Billions nonbinary actor, Asia Kate Dillon? They're leading the mainstream conversation on gender identity — specifically for people who use they/them pronouns.
"We wanted to have Asia in minimal designs, clean lines and shapes, and the Prada corset stood out to me," says fashion director Rebecca Ramsey. "Shown over a suit in the Prada men's show, the corset is a piece that, when pulled apart, creates amazing lines. Asia has beautiful arm tattoos and it was a way to highlight them as well."
Munich-based photographer Elizaveta Porodina said she has worked to get people like Dillon in front of the camera throughout her career. "These are the people [we should be seeing] right now," she said. "This is the type of person who is spreading an important message about love, freedom, identity, and listening to your inner voice."
Dillon's outward stance on gender and identity wasn't always in their comfort zone. "I spent almost 32 years not living in the full truth of my experience," the actor says in the cover story. On the press tour for Billions, "I was more than ready to talk about it as much as I could, engage with my newfound community, and really just live fully in my truth for the first time in my life." Below, check out a behind-the-scenes photo from the shoot.