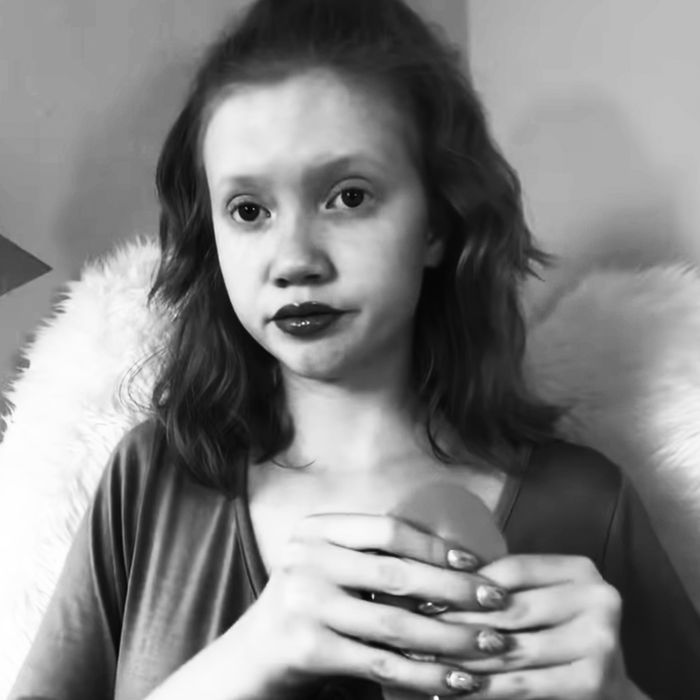 Makenna Kelly.
Photo: Life with MaK/Youtube
Makenna Kelly, a 13-year-old YouTuber whose ASMR videos have earned her a following of more than 1.5 million subscribers, is quitting the platform.
As the Daily Dot reports, Kelly says more than 12 of her videos — in which she whispers, eats snacks, taps her cell phone, and scratches into a microphone — have been taken down by YouTube in recent months. YouTube has been attempting to remedy an ongoing pedophilia problem on its platform, and videos from underage accounts like Kelly's have apparently been taken down as a result. Kelly alleges that the platform is discriminating against her:
So what's going on? Here's what we know.
Erm, what is ASMR again?
Before we go on, a brief explanation of ASMR. ASMR — or autonomous sensory meridian response — is a cultural phenomenon that has become so big it recently made its way into a Super Bowl commercial. In these sorts of videos, people do a variety of things — from whispering into a camera to eating crispy potato chips to clinking their nails on a microphone — in order to trigger what's known as ASMR responses, which is a "blissful tingling that starts up in the scalp and then makes its way through the body to the arms and legs," per the National Sleep Foundation. For some people, these videos do, well, nothing. But for others, they can induce relaxing and euphoric sensations.
Makenna Kelly's 'Life with MaK' videos brought in thousands of dollars and had more than 1.5 million subscribers.
Since 2018, Kelly has built a lucrative YouTube page full of ASMR videos of her trying to ingest a Gucci heel, eating ramen noddles, and brushing her microphone with a makeup brush. According to a February report from Business Insider, such videos were making her more than $1,000 a day.
In the past three months, Kelly says, 12 of her videos have been taken down.
The Daily Dot reports that YouTube recently removed 12 of Kelly's videos, including one in which she ate "sticky" food. Kelly says they were removed because the platform deemed her videos potentially "sexual." Kelly also says she was "sexually cyber bullied" by an adult on the website and that she is facing discrimination for the predatory behavior of adults. Per the Daily Dot:
"It's ironic that (YouTube keeps) saying they are 'trying to protect me' yet when this issue was brought up to three of their employees, they completely ignored it," Kelly said. "They did not care one bit about a grown man calling me offensive and derogatory names and making lewd sexual comments about me on their platform."
This all stems from an ongoing problem that YouTube has reportedly had with pedophilia on its platform.
A disturbing June report from Harvard, cited by the Daily Dot, found that YouTube's algorithm has been recommending home videos of young children to people searching for more and more sexually explicit content, thereby facilitating pedophilia. In essence, if someone continually searches for sexual material, he will receive recommendations for videos of younger and younger people, until he is potentially gaining access to videos depicting children.
In response to the study, YouTube announced that it was changing its livestreaming policies; minors under the age of 13 could no longer livestream videos without a guardian present, and a number of videos were removed from the site. Before that announcement, however, YouTube had already made efforts to address the disturbing issue. The platform hired child-safety experts to catch people who might want to harm children, and in March it disabled comments on videos of children.
A spokesperson for YouTube told the Daily Dot earlier this month: "Any content — including comments — that endangers minors is abhorrent and we have clear policies prohibiting this on YouTube. We took immediate action by deleting accounts and channels, reporting illegal activity to authorities and disabling comments on tens of millions of videos that include minors. There's more to be done, and we continue to work to improve and catch abuse more quickly." The spokesperson also said the company was working to remove "thousands" of underage accounts to combat the problem.
YouTube is also cracking down on ASMR videos featuring young children .
In a lengthy February report, Wired noted that there are more than 45 million ASMR videos uploaded to the site, per YouTube estimates, and that a number of minors had been posting such videos. YouTube's child-safety policy manager, Claire Lilley, told Wired: "We believe technology presents great opportunities for young people to express themselves creatively and access useful information, but we also know we have a responsibility to protect young creators and families and consider the potential impact of emerging trends on them."
Lilley continued: "We've been working with experts to update our enforcement guidelines for reviewers to remove ASMR videos featuring minors engaged in more intimate or inappropriate acts. We are working alongside experts to make sure we are protecting young creators while also allowing ASMR content that connects creators and viewers in positive ways."
This isn't the first time Kelly has been affected by YouTube's attempts to address the issue.
According to Wired, Kelly's channel — which garnered negative attention back in October for a video entitled "ASMR - SASSY Police Officer / Cop" — had been banned for three days in November but was reinstated after YouTube had discussions with her parents. As she told BuzzFeed News in a Friday interview, "I shouldn't be discriminated against or punished for something that I enjoy doing." Kelly also said she felt she was being discriminated against because of her age, telling BuzzFeed News: "They should treat everybody fair. If you have a rule, that rule should apply to everyone, and not discriminate against certain people."