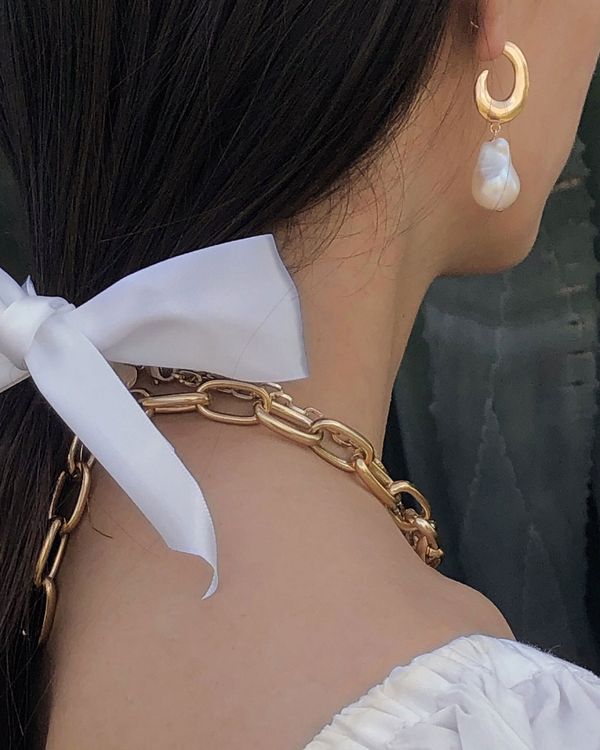 Photo: Courtesy of the vendor
Back in 2017, Sofia Coppola appeared on the cover of The Gentlewoman. The simple black-and-white photo had one detail that stood out: a singular pearl earring. It was massive and misshapen — not your typical demure little stud. The off-kilter creation was by Celine, and like all Phoebe Philo creations, it quickly sold out.
Two years later the trend has trickled down, and you can now find the same kind of lumpy mega-pearls at all price points. They're called baroque pearls, and they've been a favorite of jewelers since Renaissance times. When sold by purveyors of fine jewelry, they can be quite expensive, but if you just want to participate in the trend for $20, the fake ones are easy to find. Real or faux, they look elegant dangling from the lobes.
Scroll ahead to shop our favorites.
For Fans of Old Celine
They're like the love child of the brand's studded pearls and popular hoops.
If You Love Hoops
If you already own a veritable rainbow of colorful hoops, might as well add pearls to the mix.
If You're Looking for Fun Vacation Earrings
Photo: 19-03-20 Accessories AM2 B3 toddmaughan W
Wear them with a bikini and a breezy white linen dress.
If You Fiddle With Your Earrings
Hammered metal plus bumpy pearls equals tactile heaven.
The Stylish Amazon Find
Reviewers praise these earrings for their high-quality fabrication.
If You're Into Indie Brands
Christine Young started as an artist and became a self-taught designer. Her line Young Frank is full of pretty pearl earrings, sleek hoops, and cool chain necklaces.
If You Want Something Dramatic and Pretty
Seen on a screen, these earrings might look dainty, with their delicate little leaves. But they're actually so long they graze the collarbone.
If You Want Something Dramatic and Trendy
What do you get when you combine hoops, gold sculptural balls, and pearls? Earrings that hit on every trend from the last two years.
The Ethical Option
All of the jewelry in Diana Lecompte's debut line is made by skilled Colombian artisans.
If You're Into Asymmetry
Pair this with a single stud in the other ear.
If you buy something through our links, New York may earn an affiliate commission.