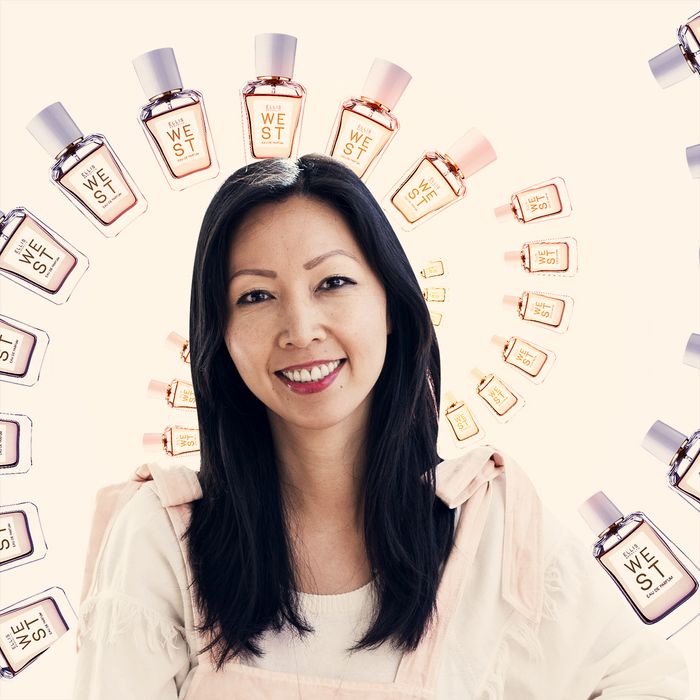 Photo: Courtesy of Ellis Brooklyn
Call it the Proust effect: Memories are often triggered by smells. Scientific studies confirm that, of all the senses, smell offers the best recall. In Scent Memories, the Cut asks people about the scents they associate with different times in their lives. Next up is Bee Shapiro, beauty columnist for the New York Times, author of Skin Deep, and the founder of Ellis Brooklyn, a clean-fragrance line Shapiro launched in 2015 that focuses on sophisticated small-batch fragrances and body products made with sustainable, ecofriendly, and safe ingredients. One of the brand's newest fragrances is West, a '70s-inspired citrus sprit that's perfect for summer. The Cut caught up with Shapiro to talk chocolate, blueberry pancakes, and throwback sunscreens.
My first scent memory is: Rainy, wet woods, because I grew up playing in the woods in a suburb of Seattle. I always tell my husband I've had a lifetime of rain; I've had enough rain.
Happiness smells like: A baby's skin. There's nothing better than that. It's a mixture of youth and sunshine and joy; it's magic. My kids are now toddlers and they're losing the baby smell. It's a little bittersweet for me.
Love smells like: Wine. Really rich, red wine.
Friendship smells like: Sunshine. Does sunshine have a smell? I'm not even sure. It does, right? When you hang your clothes out to dry, there's a smell. I was a very outdoorsy kid, so when I think back on my childhood friendships, we were always outside, so for me, it's sunshine.
Heartbreak or loss smells like: Cold metal. Sometimes when you're bitter or you are regretting something, you get that bitter taste in the back of your mouth.
Regret smells like: An old cocktail. One that's been sitting out for too long and the ice cubes have melted and it just doesn't taste good anymore.
Success smells like: My first instinct is to say cold hard cash. But the truth is, cold hard cash is not really the smell of success anymore, because I feel like when you get older, the idea of what success is changes a little bit. So for me, it's probably the smell of salty sea air because that's where I'd be all the time if I was really, really successful.
A pleasant surprise smells like: Chocolate. Really raw, dark, almost bitter chocolate. I just love chocolate. I love everything about it.
The worst smell is: The New York City subway on a hot, steamy day. The smell of the subway is truly just the smell of decay. Decay is eau de subway.
Vacation smells like: That almost-cheesy sunscreen smell. I love clean products and I'm very picky about smells, obviously, but I love sunscreens that have that cheesy, coconut-y, tropical smell. I think it's because I grew up with Banana Boat and Coppertone. The young'uns of today wear cool stuff like Coola and Supergoop, but we didn't have those options. But when I smell scents like Ocean Potion, it really takes me back.
Sunday morning smells like: Blueberry pancakes. My husband is the pancake king. Self-anointed; no one anointed him. But he makes blueberry pancakes on Sunday mornings and he's really good at them.
Monday morning smells like: Endless amounts of black tea. That's the first thing I do when I wake up: go turn on the hot water for black tea.
My home smells like: Lavender. I love that super-fresh smell of lavender for the home. I don't love home scents that are super-complicated — I just want everything to smell fresh and like I'm living outdoors.
If I could have one smell on my hands forever, it would be: Our Myth Body Milk, which I made for myself. I'm lucky enough where I have a fragrance line, so I literally just made the smell that I wanted — it was very specific and it's this perfect white ambrette musk. There's one that sits on my desk because I wash my hands so much, with two little kids.
I smell like: I wear Myth, but right now I'm super into citruses. I love the idea of citrus when the weather's nice out. I think it's really energizing, so we just came out with a citrus scent called West that's inspired by 1970s L.A. Being a writer, I was really inspired by that era because there were all these amazing female writers that came out of that time — Joan Didion, Eve Babitz, in songwriting there was Joni Mitchell, so that's what I'm wearing right now. It's blood orange, basil, oak moss, and pretty unisex, actually.
If you buy something through our links, New York may earn an affiliate commission.