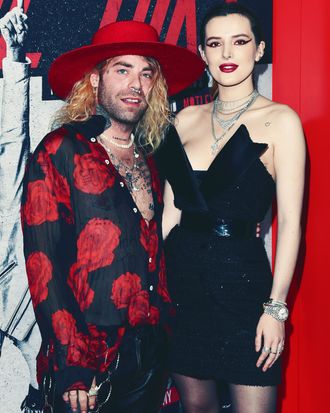 Photo: Axelle/Bauer-Griffin/FilmMagic
In the fallout of the Jake Paul and Tana Mongeau engagement comes the news that Bella Thorne — Mongeau's ex, as she recently reminded us in a series of weeping Instagrams — was actually previously married. Well, sort of, anyway. According to her ex, Mod Sun, who is apparently a rapper, the couple was secretly married and also secretly divorced.
Wait, what? A review: On Valentine's Day, Thorne and the rapper tied the knot on a symbolic level. In an Instagram post, she was seen wearing a pastel rainbow veil and passionately kissing Mod Sun to "Halocene," by Bon Iver. A very
Gen-Z–millennial crossover wedding!
While they never filed paperwork or had confirmed this marriage previously, there were rumors floated in May, after Thorne flashed a giant, 15-carat-emerald ring on Instagram Stories. But it was hard to tell if this was an engagement ring or just a regular, incredibly flash piece, as the couple love large jewels in general — according to TMZ, they once dropped almost $100k on jewelry alone on a date in NYC.
Their relationship seems to have ended tensely, as Thorne had trouble getting her stuff back from "Moddy's" house, which is how she angrily referred to him in a tweet also in May.
"Young, crazy people" indeed!