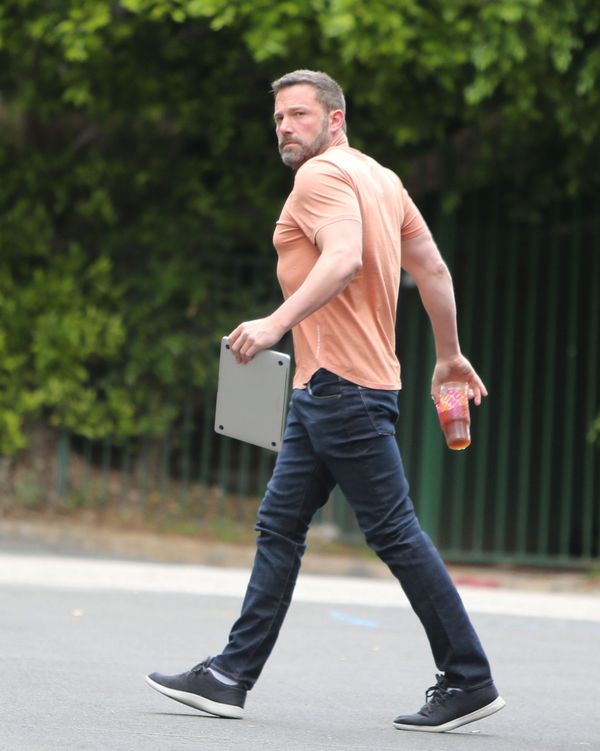 Ben Affleck.
Photo: X17online.com
On Monday, Ben Affleck was pictured out and about by paparazzi in Los Angeles — a regular occurrence for the tabloid favorite. By most standards, the outing wasn't particularly noteworthy. Per the Daily Mail, he was leaving his gym (standard), and his jacked muscles were obvious behind his tangerine T-shirt. But upon closer inspection, we noticed something … off. Affleck appeared to be in a hurry — while carrying an iced coffee (his trademark accessory) and holding onto a case-less laptop in one hand.
So, why exactly was Ben Affleck in such a hurry with his laptop? A few theories:
• He was rushing home to look at the latest pics of his Saturday Night Live producer ex-girlfriend Lindasy Shookus at a SoulCycle class in Cannes for her birthday with a sparkler frighteningly close to her face.
• He needed to book a SoulCycle class for himself.
• Wanted to Google tattoo removal.
• He heard everyone talking about a "big boy" (Adam Driver) and needed to find out who that was (again, it's Adam Driver).
• He needed to make up fake usernames to comment on the casting news of Robert Pattinson as Batman.
• Crazy Days and Nights just posted some new blind items.
• There was a sale on coffee and ice makers.
• He's actually a blogger and he needed to rush to update his blog. We can only assume he received a TMZ notification about the Kardashians, and also needed to urgently post about the KKW Beauty leg makeup tutorials while it was trending on Google.
But really, who's to say.