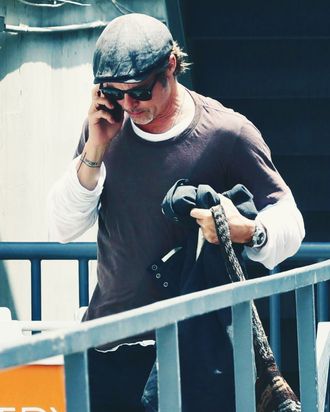 Brad Pitt.
Photo: SARA, GICA/8:18 / BACKGRID
Celebrities love a signature look, a distinct, instantly recognizable visual representation of their personal brand and ethos. Karl Lagerfeld had his black suit. Ariana Grande has her high ponytail. Marilyn Monroe had her platinum coif. Steve Jobs had his black turtleneck, and Elizabeth Holmes also has his black turtleneck. And now, it seems, actor, sculptor, and milky boy Brad Pitt is road-testing his own signature look: a baggy brown short-sleeved T-shirt layered over a baggy white long-sleeved T-shirt, black pants, sunglasses, a gray newsboy cap, and a brown knit satchel. Sure!
According to a "Page Six" story titled "Brad Pitt Has Been Wearing the Same Outfit All Week," Pitt was spotted on Monday wearing "the exact same head-to-toe outfit he was spotted in the week before."
Above, you'll see him in The Outfit on Monday, June 10. Below, you'll see him in The Outfit the week before, on Tuesday, June 4:
Did Pitt wear The Outfit in the intervening days as well? Did he have it washed? It's unclear, but here's a picture of him wearing it last month, on May 28. It looks like he hadn't yet found the perfect satchel to pull together the whole ensemble.
There is a chance Pitt's outfit repetition could be an attempt to throw off nosy paparazzi. Back in 2007, Harry Potter star Daniel Radcliffe told late-night host Jay Leno that for a while he would wear the same outfit whenever he went out to discourage photographers. "They could take photos for six months, but it would look like the same day. They became unpublishable, which was hilarious because there's nothing better than seeing the paparazzi get really frustrated."
Maybe that's what Pitt's doing here. Or maybe this is exactly how he wants you to see him, as an aging hipster/skater who will sell you some bad weed, make you look at pictures of his sculptures for an hour and a half, and then make out with you for a while before never calling you again.