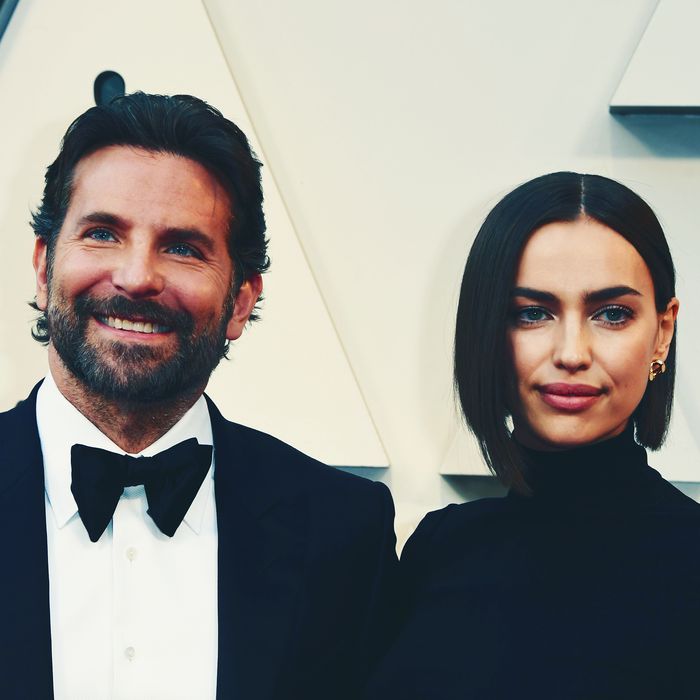 Bradley Cooper and Irinia Shayk, exes.
Photo: Mark Ralston/AFP/Getty Images
Tell me something, girl. Are you happy in this modern relationship with actor-director-bilingual Eagles fan? Tell me something, boy. Ain't it hard keeping up a healthy and mutually supportive partnership?
Those beautifully reimagined lyrics are my way of gently breaking it to you that, after much speculation, A Star Is Born director and "Shallow" co-singer Bradley Cooper, 44, and his partner, supermodel Irina Shayk, 33, have called it quits after four years of dating, People reports.
The two began dating in 2015, shortly after Cooper split from his ex-girlfriend Suki Waterhouse, and after Shayk split from her ex-boyfriend Cristiano Ronaldo. That summer, they "enjoyed a PDA-packed August of romance and relaxation, including cozying up on the beach on Italy's Amalfi Coast," according to People.
In the intervening years, they were spotted both enjoying themselves at Wimbledon and fighting at Wimbledon, they had a child together, Lea de Seine Cooper-Shayk, and Shayk periodically wore what appeared to be an engagement ring.
Here is everything we know about the alleged split:
There have been rumors swirling about their impending split for a while
Granted, these rumors were based largely on the faces the couple made at restaurants, so do with that what you will. Back in October, Page Six reported the couple was spotted "looking sulky during dinner at Masa, in the Time Warner Center," and according to one source, "They are miserable together. They have been for months. He doesn't drink and is into spirituality. She wants to go out."
The same report said that they then cheered up, and were spotted downtown looking "cozy and happy" at Sant Ambroeus, but that Cooper had been "a pill" because he hated doing all of the press for A Star Is Born.
Which brings us to the chatter about …
Lady Gaga
Almost as soon as Cooper and the pop star began doing press for A Star Is Born, people began speculating about the nature of their relationship. After all, the logic seemed to go, these two professional performers acted extremely in-love onscreen, and during one sensual Oscar performance — surely that couldn't all be an act, even though acting is their job.
"People saw love, and guess what, that's what we wanted you to see," Lady Gaga said, with a large eye roll, about the buzzy Oscar performance during a Jimmy Kimmel Live! appearance.
One thing is for sure — they certainly admire each other.
Still, their relationship reportedly changed after A Star Is Born
Although Gaga herself may not have been the source of their woes, a source told People that Cooper was "emotionally absent" during the filming of A Star Is Born.
"They tried to save the relationship but it had changed."
Cooper and Shayk are reportedly working on a shared custody agreement for their daughter
According to People, an "insider" says Cooper and Shayk are "amicably working out how to share custody of their daughter," Lea de Seine Cooper-Shayk, who was born in 2017.
A source told E! News this month that "things get a little bit better but then they find themselves back in the same place of questioning whether being a couple is what's best," and that, "They want to stay together for their daughter, but neither of them are very happy."
Hey!
What?
I just wanted to take another look at you.
This post will continue to be updated as we learn more information.