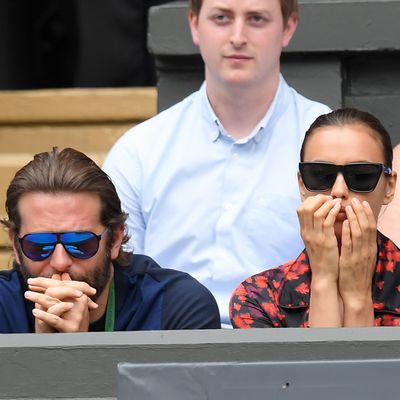 Bradley Cooper and Irina Shayk, in happier tennis times.
Photo: Karwai Tang/WireImage
This week, after months of rabid, restaurant-based speculation, People reported that A Star Is Born director Bradley Cooper, 44, and his partner, model Irina Shayk, 33, have split.
The two have been together since 2015, and share a daughter, Lea de Seine Cooper-Shayk, who was born in March 2017. Their relationship has allegedly been frayed for some time, with a source telling "Page Six" back in October that, "They are miserable together. They have been for months. He doesn't drink and is into spirituality. She wants to go out."
There were some good times, too. Like when the pair attended Wimbledon in July 2016. And there some bad times, like when the pair attended Wimbledon in July 2016.
To honor their love, let's take a journey back through that week of passion, biting, tears, and tennis.
July 6, 2016
Day nine of the Wimbledon Tennis Championships in London, England. Roger Federer defeated Marin Čilić in the Gentleman's Singles Quarter Finals, and Andy Murray defeated Jo-Wilfried Tsonga, and Bradley Cooper experienced the full spectrum of human emotion.
While watching Federer and Čilić play, Cooper and Shayk beamed at each other, full of love — for each other, and for the elegant sport of tennis, probably.
Shayk also bit/kissed Cooper and his shoulder, and he was like, "Sure." Cute! Ah, to be young and in love and surrounded by the bright, petroleum smell of tennis balls.
And then, an explosion of passion! For each other! For sport! For life!
July 8, 2016
Two days later. The mid-life of their Wimbledon relationship. The honeymoon period of Day 9 is behind them, maybe, and Roger Federer lost to Milos Raonic, but they are still beautiful and rich and in love and at Wimbledon.
They're still smiling.
Shayk is still biting.
They're still cheering, though not with the same vigor, the same passion as before.
And then …
July 10, 2016
When it's over, do you see the end coming? Or is it a surprise, the result of small, nearly imperceptible changes and slights that pile on top of each other, higher and higher, until you can't see your partner anymore over the mountain of resentment? Unlucky Day 13. We are so far from the bloom of Day 9. Everything looked like it would be okay. It was the Gentleman's Singles Final. Cooper, a Final Gentleman, was wearing a suit.
Again, they smiled. Hugh Grant was there! There was hope.
But then, they couldn't hide it any longer, not from the cameras, and not from themselves.
It really makes you realize, the thing about relationships is …
Hey, look, there's Benedict Cumberbatch!