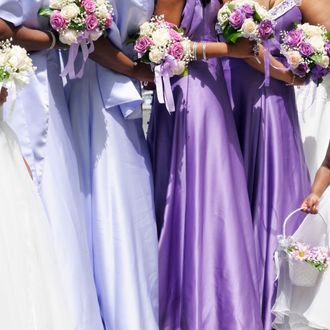 Photo: Lisa-Blue/Getty Images
For some brides, figuring out whom to include in the bridal party can be stressful, especially when they have a lot of friends. There could be issues with logistics or someone feeling left out. But for Casme Carter, none of that seemed to be a problem — she chose a total of 34 bridesmaids for her wedding.
After getting engaged on a family road trip, Carter and her husband, Gary, wed in a beachside ceremony in Destin, Florida, on June 2. And though the bridal party had 34 women — her six sisters and 28 friends — it wasn't the original plan. Carter had wanted 50 bridesmaids, but some couldn't make it to the ceremony due to family reasons and an Army deployment, CNN reports.
A singer and entertainer who has lived in New Orleans, Atlanta, and Nashville, Carter met many of her friends through mentoring and women's-empowerment groups. "I wanted them all to experience the love that they've seen that I've been praying for and wanting. I wanted them to witness it firsthand," Carter told CNN. Prior to the wedding, the bridesmaids weren't aware of the bridal party's size, since Carter had separated the women into different group chats.
Thankfully, Carter wasn't one of those brides who have high demands for her wedding party. She just asked them to wear neutral beach dresses and to pack swimsuits and khakis. "Everything about this wedding was different," Carter said. "It was so amazing to have them all right beside me."