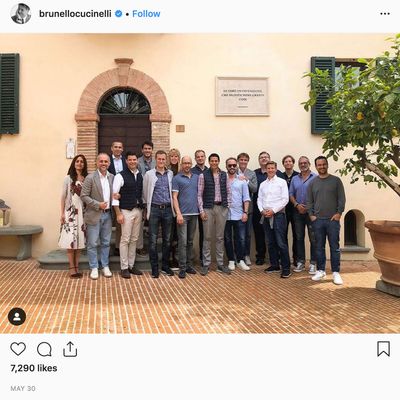 Photo: brunellocucinelli/Instagram
Last week, GQ magazine published an article detailing the ins and outs of something called the "Solomeo Summit," an unlikely gathering of Silicon Valley giants hosted by Italian fashion designer Brunello Cucinelli in his rustic Umbrian commune. LinkedIn founder Reid Hoffman was there; so were Dropbox CEO Drew Houston, Juul investor Lee Fixel; former Twitter CEO Dick Costolo, and last but certainly not least, Amazon founder Jeff Bezos. According to Cucinelli, they represented the "new Leonardos of the 21st-century," and the event, which took place earlier this spring, promised a "symposium on the soul and economy," not fashion.
Few photos were taken at the summit, but Cucinelli shared a wholesome group pic on Instagram of the "Leonardos," minus Bezos, posing in the shade under a lemon tree. They seem enlightened and slightly sun-kissed, as though they'd spent the weekend eating, drinking, and talking about how to how to be more benevolent capitalists. Fashion was clearly not on the agenda, as evidenced by the Silicon Valley uniform of zip-up vests. A total of 15 men were pictured, plus two female CEOs: one wearing a dress, and another who appeared to be in a black turtleneck.
Nothing out of the ordinary, right? Well, upon closer inspection, things were not as they seemed. "Uhhh I think this photo is photoshopped?" BuzzFeed tech reporter Ryan Mac tweeted on Monday afternoon. "Look at the woman, supposedly SunRun CEO Lynn Jurich, in the background. Some weird stuff is going on with her leg, which isn't aligned with the rest of her body." Twitter chimed in, and with the help of some online sleuthing, the original image was uncovered.
"LMAO THEY PHOTOSHOPPED THE WOMEN IN," Mac tweeted Wednesday morning. Soon thereafter, representatives from Brunello Cucinelli confirmed in a statement to BuzzFeed News that the original image, which included zero women, was, in fact, doctored to include two female CEOs who were, according to Cucinelli, present at the summit, but not for the group pic.
"The gathering was an informal affair between friends where we captured some group photos," echoed the brand in a statement to the Cut. "When we realized we didn't have a shot where all attendees were represented, we added in photos of two CEOs taken during the weekend. The photos were shared and approved with all the participants including the two women, Lynn Jurich and Ruzwana Bashir, before posting them on Instagram and they also shared the group photo on their own Instagram handles."
Brunello Cucinelli has since deleted the photo from its Instagram, and GQ removed the Photoshopped image from its Story.
"We meant no harm or had any malicious intent in doing this and we are sorry," a representative from Cucinelli added. Sounds like they were genuinely trying to avoid some social media FOMO, and who can't relate to that? If they're looking to invite more women in tech next year, though, the Cut staff is available.