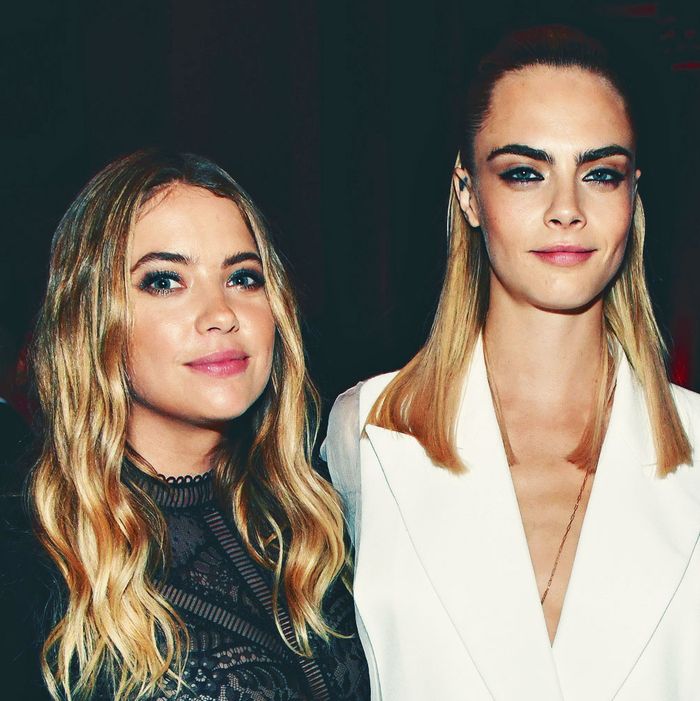 Ashley Benson and Cara Delevingne.
Photo: Craig Barritt/Getty Images for The Trevor Project
There are some rumored celebrity couples that warrant a considerable degree of skepticism: Kourtney Kardashian and Luka Sabbat, for example, or Dina Lohan and her online ex-"boyfriend" who may or may not have even existed. Then, there are those like Cara Delevingne, 26, and Ashley Benson, 29, who have been photographed together all over the world (including once gleefully carrying a $400 sex bench) but who have never publicly confirmed their relationship. But finally, after what feels like an eternity, they've told us what we've known all along.
Over the weekend, Delevingne posted a wildly sensual video of her kissing Benson on Instagram and on Monday night, ahead of the Trevor Project's TrevorLIVE Gala, E! News asked Delevingne to elaborate on why she shared the clip, which she took as an opportunity to make their relationship official official.
"I don't know because it is Pride, it's been 50 years since Stonewall happened and I don't know," she said. "It's been just a bit over our one year anniversary so, why not?"
During the gala, Delevingne also thanked a "very special woman in [the] room" while accepting the Hero Award for her commitment to ending suicide among LGBTQ youth.
"She's one of the people who help me love myself when I needed it most and I really needed it," she said during her speech, which Benson posted to her Instagram Story with the text, "Love you. proud of you."
While widespread speculation around Delevingne and Benson's relationship mounted in August 2018, when they were photographed sharing what the Daily Mail called a "passionate kiss" at Heathrow Airport, the two women were first spotted together in May 2018, when they left a Lauryn Hill concert together. And what a year it's been for the pair: They've been photographed making out and cuddling and groping each other all around the world. Based on their recent joint purchase of a sex bench, we can assume things are going well for them.
Bless this celebrity couple, who is now officially the best there is.