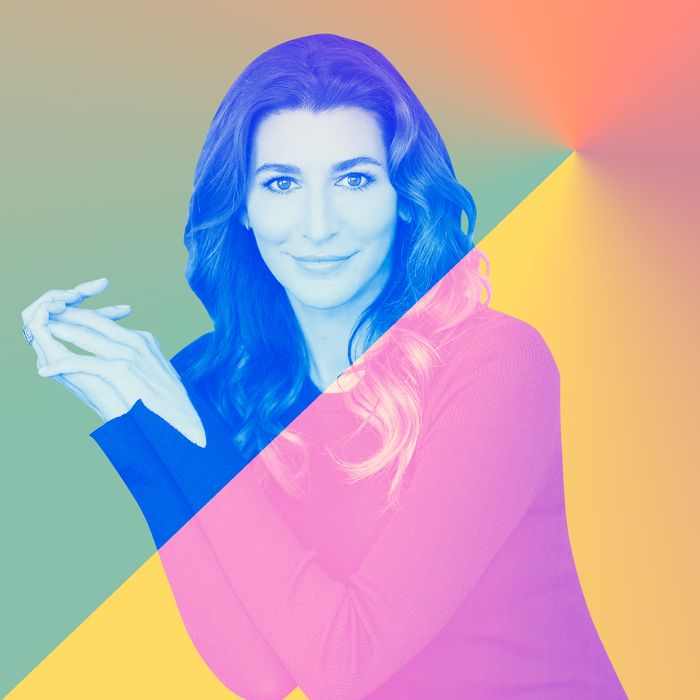 Photo: Courtesy of Hourglass
Growing up in Corona de Mar, California, Carisa Janes was obsessed with horses. On her 8th birthday, her father surprised her with riding lessons, and the equestrian decade began.
"Riding taught me patience and discipline," says Janes, the founder of cruelty-free luxury beauty brand Hourglass Cosmetics. "My world revolved around competing and caring for the horses, but it also kept me out of trouble. When other girls were distracted by boys or drugs, I was at the barn."
The horses were eventually replaced by beauty and fashion, and a summer program at Parsons introduced her to the world of marketing. She applied to the undergrad program with an analysis of the Calvin Klein brand and got accepted via a rather obtuse phone call.
"The woman on the other line said, 'You're not the best student, and you probably wouldn't get into Parsons normally, but, clearly, this is what you're supposed to be doing with your life."
After graduating, she worked with Wende Zomnir at Urban Decay and at Body and Soul. Next came her own baby and then her brand: In 2004, she launched Hourglass. A year later, a piece in People came out about Angelina Jolie's makeup artist using Hourglass Veil Fluid Makeup on the set of Mr. & Mrs. Smith, and the brand blew up. Nevertheless, Janes likes to give some credit to her mother.
"She always had pink lightbulbs in the house because they created the most flattering light, which was the inspiration for our Ambient Lighting Powder," she says. "It really put us on the map at a time when other brands were still matching powders to skin tones."
In 2017, the brand was purchased by Unilever, and the beauty and personal care behemoth is fully behind Janes's next goal.
"We plan on being completely vegan by 2020," she affirms. "If we want to be truly cruelty-free, we shouldn't be using any animal-derived ingredients. We're already 80 percent there, so it's going to happen."
To drive this mission, Hourglass has launched the Eye to Eye campaign, where one percent of the brand's website profits will go to the NonHuman Rights Project. The campaign's visual shows a model eye-to-eye with — yep — a horse.
"Each model stood on a box while I held the horses," recalls Janes. "It was strangely easy, considering we had these gigantic, magnificent animals. I'll never tire of these images. It just feels magical every time I see them."
Janes spoke to the Cut about her struggle with red lipstick, the importance of good canine bedding, and the weekly dance party in her home.
What's your definition of beauty? 
Authenticity and purpose. These seem to be what make people happiest, and happy is beautiful.
What do you think when you hear the term "clean beauty"?
Another option for the consumer, but one that can sometimes be confusing.
Where, if anywhere, in your life are you not quite that "clean," "green," or "sustainable"?
I'm cutting down on my driving in L.A. and trying to walk as much as possible, but it sometimes proves hard in this sprawling city.
Please fill in the blank as it pertains to something connected to your beauty, self, routine, product or otherwise: I think about _______ a lot. Underwear!
What is the opposite of "beautiful"?
Cruel.
What is your morning beauty routine?
I try and work out every day, then hit the shower, do my hair and makeup — a quick daytime look — and walk to the office.
What's the last beauty product you use every night?
Hourglass Equilibrium Biomimetic Skin Active Serum.
Bath or shower?
Shower, with Aesop Geranium Leaf Body Cleanser and Dove Beauty Cream bar soap.
Shampoo/conditioner of choice:
Living Proof Restore Shampoo and Condition, Kevin Murphy Fresh Hair Dry Cleaning Spray Shampoo, and Olaplex treatment.
Most relied-on hair styling product and/or tool:
I'd be lost without my GHD Soft Curl Wand.
Body lotion of choice:
REN Neroli and Grapefruit Body Cream.
Facial cleanser of choice:
Youth to the People Superfood Kale Antioxidant-Rich Gel Cleanser.
Favorite scented candle:
Diptyque Baies and anything Hermès.
What, if anything, is usually on your lips?
Hourglass No. 28 Lip Treatment Oil in Cameo or Bare, and Unreal High Shine Volumizing Lip Gloss in Halo or Canvas.
Favorite physical feature about yourself?
My feet — I actually have pretty nice feet.
What beauty look do you struggle with achieving?
A bold red lip. I love the way it looks on everyone else, but it just doesn't feel like me.
What do you splurge on?
Yes, it's an indulgence, but luxury bedding for my four dogs. Somehow they know about thread count.
Towel brand of choice:
James Perse, but they aren't what they used to be. I prefer earlier collections, which I still have in rotation.
Purse of choice:
Saint Laurent clutch in denim.
Work shoe of choice:
Classic Manolo Blahnik pumps in nontraditional colors.
Casual shoe of choice:
Black and white, limited edition Nike Airs that I found in Dubai.
What fashion look do you struggle with achieving?
I can't seem to make high-waisted jeans work.
What is the ultimate definition of decadence to you?
A double-martini lunch at Mr Chow with my friend Tim.
Favorite podcast?
Armchair Expert.
Last great book you read?
Just Kids, by Patti Smith.
What would the name of your autobiography be?
Dose of Reality.
Who would star as you in the film adaptation?
Cate Blanchett.
What do you think Pantone's color of 2020 should be?
Periwinkle.
What is always in your fridge?
Broccoli, dog food, and vodka.
Go-to happy or workout song:
"Work It," by Missy Elliott.
Form of exercise:
I have a hip-hop instructor come to my house once a week. It's just fun, and I love the music, and it makes me laugh. I don't see it as a workout; it's more like I'm at a club. I pour myself a vodka and start dancing. I'm not progressing as much as I'd hoped, but that's okay.
What do you wish you had invented?
The mascara wand.
What would you still like to invent?
A robot that can execute the perfect blowout in the comfort of your own home.
What celeb would be your friend if only you two met?
Definitely Jason Bateman.
Most impressive dish you make:
Roasted cauliflower and chickpeas (from Gwyneth Paltrow's cookbook). It's simple but so delicious.
Comfort music:
Lauryn Hill and Frank Ocean.
What was the most recent interesting conversation you had? 
A conversation about life after death with my friend Simon.
Whose artwork would you love to have in your home?
John Baldessari and John Currin.
What product in your company's domain is misunderstood and should be a best seller?
Veil Retouching Fluid. It can make anyone look like they've slept for ten hours.
What is your favorite product in your domain? Ambient Lighting Palette, Caution Mascara, and Vanish Seamless Finish Foundation Stick. These three are the heartbeat of the brand and three of my proudest moments.
What do you foresee as the top beauty trends in 2020?
Vegan beauty. For us, going vegan just felt like the right thing to do.
If you buy something through our links, New York may earn an affiliate commission.