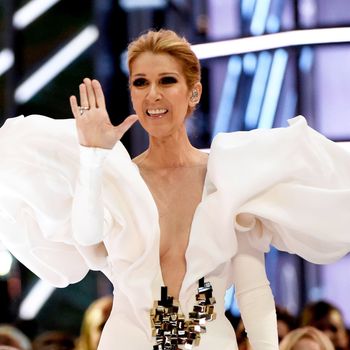 Au revior, Céline Dion.
Photo: Invision/AP/Shutterstock
In September, the world received some troubling news: Céline Dion would be ending her current residency in Las Vegas in a few short months, after eight years. And now, sigh, that time has finally come. On Saturday night, Céline will make her final Vegas banter, belt out her final "Let me be the one to lo-ooooove you MOORREEEEEEEEE," and don her gold tux for the last time — at least, in this incarnation, that is.
Céline, the legendary Canadian singer and newfound Met Gala darling, has been performing at Caesars Palace in Las Vegas on and off since 2003. Her first residency, "A New Day …," ran through 2007, and her latest kicked off in 2011, after Caesars built a new performance space, its now-famed Colosseum, just for her show. In a September statement announcing the end of her residency — which closes after more than 1,100 performances — Céline said in a statement, "I definitely have mixed emotions about this final run. Las Vegas has become my home and performing at the Colosseum at Caesars Palace has been a big part of my life for the past two decades."
It's obvious she truly loved performing there. I was lucky enough to attend one of her final performances last weekend. A lifelong Céline fan — thanks to a Canadian childhood spent singing and dancing to her songs — I frantically emailed my mother and aunts once I heard her residency was ending, and the four of us planned a Vegas vacation around attending one of her performances. Onstage, Céline radiated pure joy. She made the packed theater feel intimate, told us (the audience) again and again that she loved us, and encouraged everyone to sing along. My jaw fell to the floor as she hit every note of "It's All Coming Back to Me Now," and she stunned as theatrical rain fell during "My Heart Will Go On."
Céline's groundbreaking performances weren't just magical experience for audiences — they also helped transform Vegas and the music industry itself, the Daily Beast reports. It was unprecedented when Céline took on her first Vegas residency 16 years ago; she was immensely successful, her tours performed well, and she didn't seem to need to be anchored to a Vegas show. Jon Gray, general manager of the Palms Casino Resort, explained to the Daily Beast, "Vegas was a place where singers go to die. Céline changed that." She's since performed for 4 million people in the city, and her success has seemingly paved the way for other famous singers — including Lady Gaga, Christina Aguilera, Janet Jackson, Cardi B, and Jennifer Lopez — to set up residencies themselves.
Although her time in Vegas is ending (for now), Céline will soon head out on her "Courage" tour of North America — her first in a decade. Until then, the singer's team has started sharing some images to bid farewell to Vegas:
Au revoir for now, Céline.