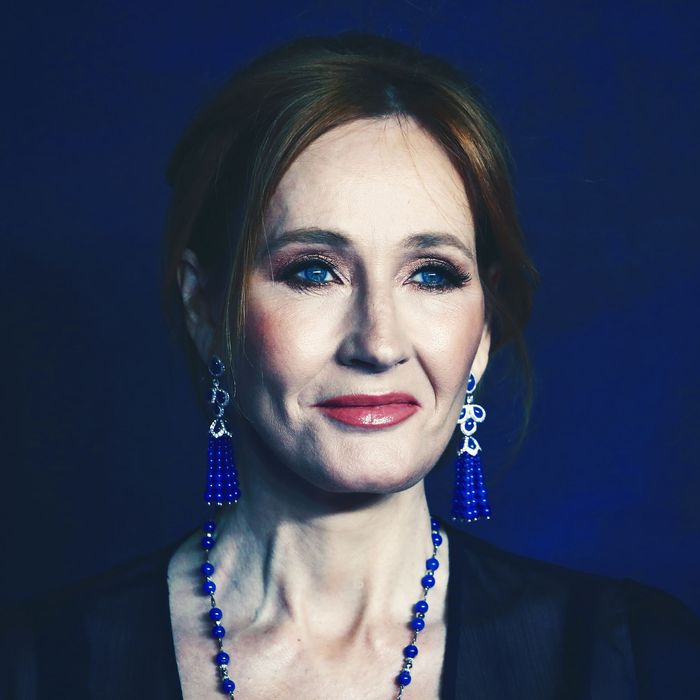 Author J.K. Rowling in human form.
Photo: John Phillips/Getty Images
When the Harry Potter world intersects with the beauty world, it's a beautiful thing to behold. Thanks to A-list makeup artist Charlotte Tilbury, we're currently in the midst of another crossover. Yesterday, Tilbury released her second Hot Lips collection (Hot Lips 2) which is comprised of 11 new lipsticks inspired by 11, "world-changing" and iconic people.
One is author J.K. Rowling, who Tilbury turned into a peachy nude-rose called JK Magic. Others include Edward Enninful, Amal Clooney, Carina Lau, Susan Sarandon, Alessandra Ambrosio, Kylie Minogue, Olivia Palermo, Sofia Vergara, Jennifer Aniston, and Charlotte's mom, Patsy Tilbury. Each iconic person has a part of their name in their Tilbury shade for easy identification (Glowing Jen, Viva La Vergara, Angel Alessandra) except for Kylie Minogue, who you can wear in the form of "Dancefloor Princess," most likely because someone else with that name has the copyright for anything remotely beauty related containing those five letters in that particular order.
The new shades were launched tandem with a 1M GBP pledge by Tilbury to Women for Women International, a charity committed to helping women survivors of war rebuild their lives, of which Tilbury became a Global Ambassador for in 2016. Hot Lips 2 is continuing the work from Tilbury's first Hot Lips Collection, which turned Nicole Kidman, Salma Hayek, EmRata, and KKW into lipsticks in 2016.
The highly anticipated Hot Lips 2 shades also mark Tilbury's first foray into refillable lipsticks. The collection launched with four new magic bullets that have been "created with super powers," and are "inspired by sacred geometry and symbolism of the spiritual world," which also sounds kind of Harry Potter adjacent, so sign me up! Check out all 11 shades below and tag yourself; I'm the clear one in the black panther outfit.
If you buy something through our links, New York may earn an affiliate commission.