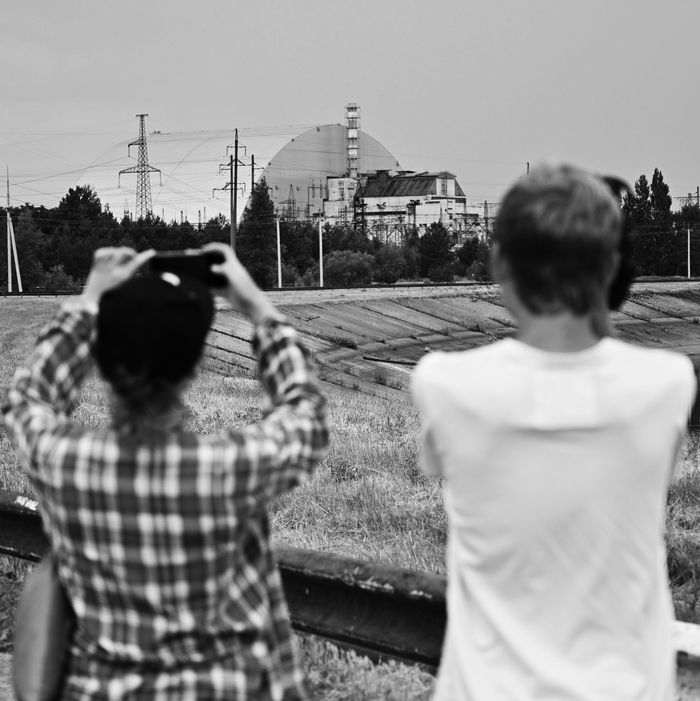 Photo: GENYA SAVILOV/AFP/Getty Images
The popularity of HBO's five-part Chernobyl series about the 1986 Soviet nuclear catastrophe has set another real-life story in motion, this one about the ethics of disaster tourism.
On Tuesday, Craig Mazin, writer-producer of the surprise-hit show (more than 6 million viewers across all HBO platforms), tweeted at fans to be mindful of how they behave during visits to the Chernobyl Exclusion Zone after at least one sexually suggestive Instagram post taken in the Ukrainian ghost town of Pripyat, near where the disaster occurred. "It's wonderful that #ChernobylHBO has inspired a wave of tourism to the Zone of Exclusion," wrote Mazin. "But yes, I've seen the photos going around. If you visit, please remember that a terrible tragedy occurred there. Comport yourselves with respect for all who suffered and sacrificed."
The explosion of a reactor at the Chernobyl nuclear-power plant on April 26, 1986, directly caused the death of 31 people, and the attendant radiation exposure is thought to have caused up to 200,000 deaths, according to Greenpeace.
While one flashy picture of a supposed "influencer" modeling her G-string and sheer hazmat suit at the disaster site is getting viral attention, the tourists who are taking selfies tend to be young, goofy, and little-followed. A few of them are borderline simpering. If you search through Instagram's collection of Chernobyl geotags, you can see the heavily filtered efforts of everyday people who chose an irradiated ruin as their vacation destination.
If history teaches us nothing, we might at least try to remember that HBO fans tend to be way too intense about their shows.