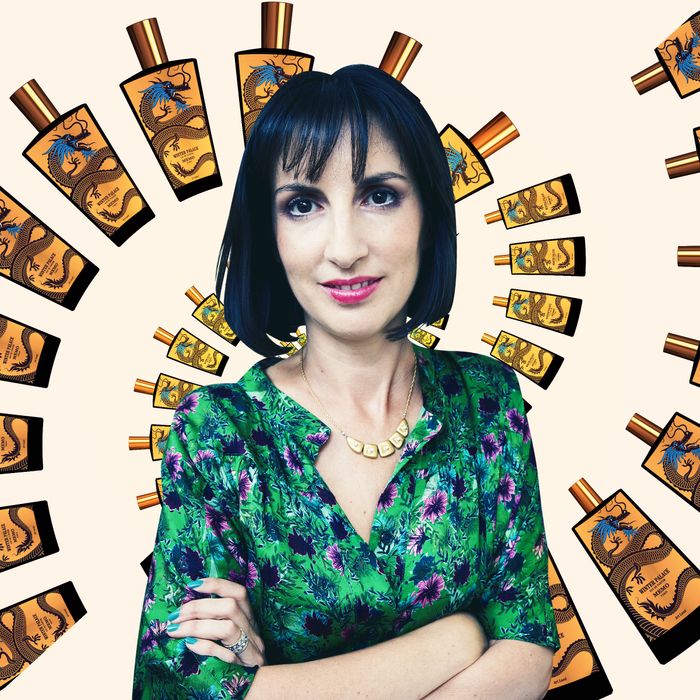 Photo: Courtesy of MEMO Paris
Call it the Proust effect: Memories are often triggered by smells. Scientific studies confirm that, of all the senses, smell offers the best recall. In Scent Memories, the Cut asks people about the scents they associate with different times in their lives. Next up is Clara Molloy, creative director and co-founder of niche fragrance lines Hermetica, Memo Paris, and Floraïku. Together with her husband, John, Molloy dreams up travel-inspired scents that take you on a journey and drop you at a new destination. Winter Palace, Memo Paris's newest scent, transports you to the Great Wall of China via notes of red tea, bergamot, and amber wood. The Cut talked to Molloy about cake, incense, and nose holidays.
My first scent memory is: My mother wearing her French perfume when we were living in Paris, the month of August, and the wet smell of Paris after the rain.
Happiness smells like: The comfort of a vanilla. For me, happiness is peaceful, joyful, and serene. It also has to do with eating, so I think of a cake being baked with vanilla. It's a little bit sweet and a scent that surrounds you.
Love smells like: A chypre. We have a beautiful chypre with Lalibela — it's oud, musk, rose — and like all chypre, it's a mix. With love, you feel it happening, but relationships last because there's more than one thing at play. Chypre is very elegant, powerful, and timeless. I find it beautiful on men, but you'd probably know more chypres that are made for women. Either way, it's a lot of subtlety and nuance.
Friendship smells like: Bitter orange. Friendship is joyful, not too heavy, and gives you energy, like citrus. But it's a little bitter because a friend is someone who tells you the truth about yourself and the truth about what you're doing.
Heartbreak or loss smells like: A very dark cacao. With heartbreak, the sugar is still there to see, but I love to have a bit of bitterness in life to know what's good for you sometimes. Maybe you let the chocolate sit out for a bit and now the time has passed.
Regret smells like: Incense. Melancholia. You're in your thoughts and you're overthinking and you're thinking about the past and not the present. With incense, you can see the smoke, which reminds you of old times and old flames; it's ancient, and it completely surrounds you. I absolutely love frankincense, so maybe I'm a bit melancholy myself [Laughs].
Success smells like: Something that doesn't last [Laughs]. Success is the feeling of a moment, like getting to a summit, and the next minute, you're coming down. It probably smells like neroli; it's very good when it's fresh, but it's not a lasting scent. It's also linked with youth and childhood. With success, the more you grow older, the more you think you've found it, but it's not really 100 percent success anymore. But when you're a child, success is really success and you find it in everything you do, because it's always the first time.
A pleasant surprise smells like: Oud, because the first time I smelled it I couldn't understand it. I was like, What is this thing that's completely out of this world. It was not in my culture at all. Even learning how you make oud was also very disturbing. It was a whole learning process, but it was a good surprise because, in the end, we used it and we loved it.
The worst smell is: Fish. Anything that's really fishy or related to the sea, I leave it to the fish. Those airy, windy, sea-breeze smells are trying to evoke something, but you only get the fish in the end.
Vacation smells like: Amber-y vanilla. A light, sexy, sensual, golden smell, like when you've been laying in the sun. The best version of your skin.
Sunday morning smells like: I wish I could say it's lazy, but it's not with kids around. We usually walk to church, and we live in the countryside so we pass roses, fresh green grass, some horses. I'd say a green note, maybe with a touch of raspberry. It's a holiday for my nose on Sundays — I don't wear anything.
Monday morning smells like: I love Monday morning, so something energetic, like a wood. I love sandalwood; it's one of my favorite woods. It always makes me smile, and I don't know why. It's rich, its warm, it's a bit dark, it has contrast, it's very positive and strong.
My home smells like: Can I say a mix of cat and dog and mud from the kids? To be honest, I'm always testing, and we have like 15 different fragrances going on at a time. I work from home, so what happens most of the time is somebody comes home and I go running after them to try to put perfume on them and they try to avoid me. It smells like all the perfume tests because I always need skin that isn't mine. It's funny because sometimes it gives me new ideas, because the scent mixes with different people or they'll eat something at the same time.
If I could have one smell on my hands forever, it would be: My mother, my husband, or my kids. The smell of someone, not a perfume. Perfumes, they come and they go and we love and appreciate them because we want to use them again, but to have it in a permanent way would give me a headache. I'd rather have someone I would miss.
I smell like: Oh, that you should ask John. Honestly, I don't have the ability to smell myself, because I'm always testing something. Sometimes they tell me I have a gitan blood. It's skin from the south of Spain that apparently reacts very strongly to perfume — it drinks the perfume really well. I guess I'm very sensitive. But if I could choose, I'd say bergamot. I love it. It's very French, it's distinctive, it's fresh, but it's complicated, too [Laughs]. Maybe I smell like bergamot. Why not? I could like that.
If you buy something through our links, New York may earn an affiliate commission.