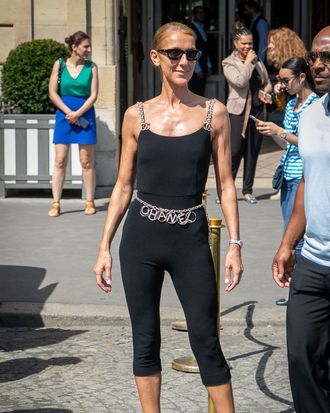 Céline Dion.
Photo: MARC PIASECKI/GETTY IMAGES/GC Images
We can count on Céline Dion to consistently wear outfits that are surprising, whimsical, and probably impractical for the average customer. But while the catsuit she wore today in Paris riffs on the '80s and the current logomania trend, there's no doubt this makes Dion look like good-girl-gone-bad icon Sandy from Grease. Instead of accenting her tight black catsuit with a cigarette and John Travolta, Dion opted for sunglasses and barely-there heels. And yes, for any Grease snobs reading this, technically Sandy gives John Travolta the chills that multiply, but let's not be pedantic when we're talking about a Chanel catsuit.
If Dion wants to do a riff on "You're the One That I Want" while she's in Paris and put it on Instagram, that would be nice. It's not out of the realm of possibility for the kooky queen of Canada.