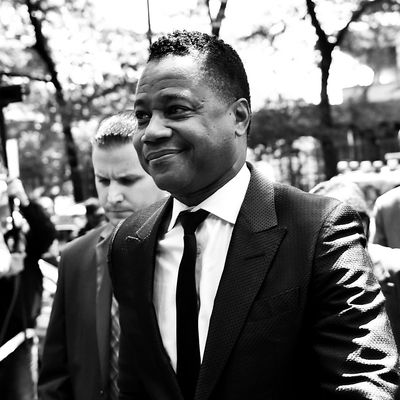 Cuba Gooding Jr.
Photo: Steven Ferdman/Shutterstock
Cuba Gooding Jr. was charged on Thursday with forcible touching and sexual abuse, following allegations that he groped a woman without her consent at a rooftop bar in New York City. People reports Gooding has pleaded not guilty to the allegations.
The Academy Award-winning actor, 51, turned himself in and was arrested on Thursday after a 29-year-old woman told police that Gooding forcibly groped her without consent over the weekend. The woman, whose identity has not been revealed, is reportedly a student at New York University, according to the New York Times. She told police that she believes Gooding was intoxicated during the assault, which the Associated Press reports appears to have been captured on video obtained by TMZ.
The video reportedly shows Gooding putting his hand on a woman's leg and breast on Saturday night inside the Magic Hour Rooftop Bar & Lounge, located in a hotel in Times Square. In the video, Gooding also reportedly appears to put the woman's hand to his lips, only to disengage with her when a man comes up to talk to him. "Page Six" notes that the woman had said security guards had to get involved in the situation after she resisted his advances.
While the AP notes that the video could be "key evidence" for prosecutors, Gooding's attorney counters that it showed "not the slightest scintilla of inappropriate conduct." His lawyer, Mark Heller, further stated, per the AP, "Mr. Gooding has not acted inappropriately in any shape or form. Nothing in the video could even be considered ambiguous, and I frankly am shocked and horrified that this case is being prosecuted."
The actor met with special victims investigators of the New York Police Department on Thursday, before being led out of the police station by handcuffs. He then appeared in court, where he pleaded not guilty. The AP reports that Gooding could face up to one year in prison if convicted, and that he will next appear in court on June 26.
This isn't the first time Gooding has been accused of unwanted touching. The AP notes that in 2012, a bartender in New Orleans alleged that he pushed her when she asked him to leave (after he got upset that patrons wanted to take pictures of him). A warrant was issued for his arrest, but the bartender did not press charges. Per the Times, investigators are also looking into a newly emerged allegation that he groped a woman years ago.