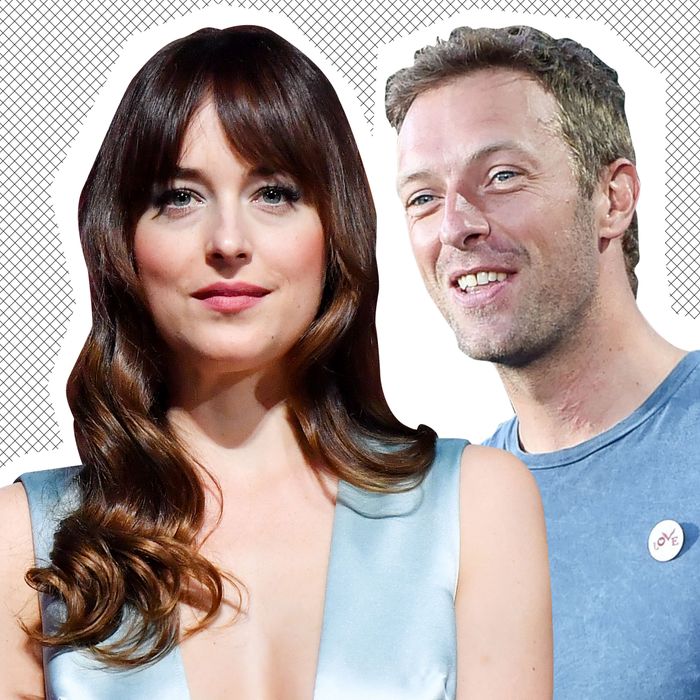 Photo: Getty Images and Shutterstock
Some tabloids have reported that partners in infinity sign tattoos — and in life — Chris Martin and Dakota Johnson are breaking up. But will they actually be consciously uncoupling? And do these rumors have any basis?
The Sun reported over the weekend that the 29-year-old actress and 42-year-old Coldplay frontman are ending their relationship of 20 months. According to a "friend" of the couple, who we are to understand is betraying intimate confidences to a tabloid, "Chris and Dakota were very easygoing and always seemed really happy together. There was talk of engagement but now he says they have gone their separate ways, which has come as a real surprise to everyone."
A surprise indeed. Just last week Martin's ex-wife, Gwyneth Paltrow, told The Sunday Times that Johnson is "a fantastic woman" whom she "adores." The two have been seen getting chummy, and the significance to Paltrow of being on good if not dazzling terms with her husband's new girlfriend has been well-documented.
Another rumor that's been circulating, care of The Sunday Express, is that Johnson and Martin broke up after "arguing for months" about whether to have children together. The tabloid claimed that Chris "had hoped they would settle … and start a brand-new family of their own, but Dakota told him she's nowhere near ready for that." That the source is the couples' "closest friends," seems suspect. But if these reports have any truth in them, some conscious unfriending could be in order.