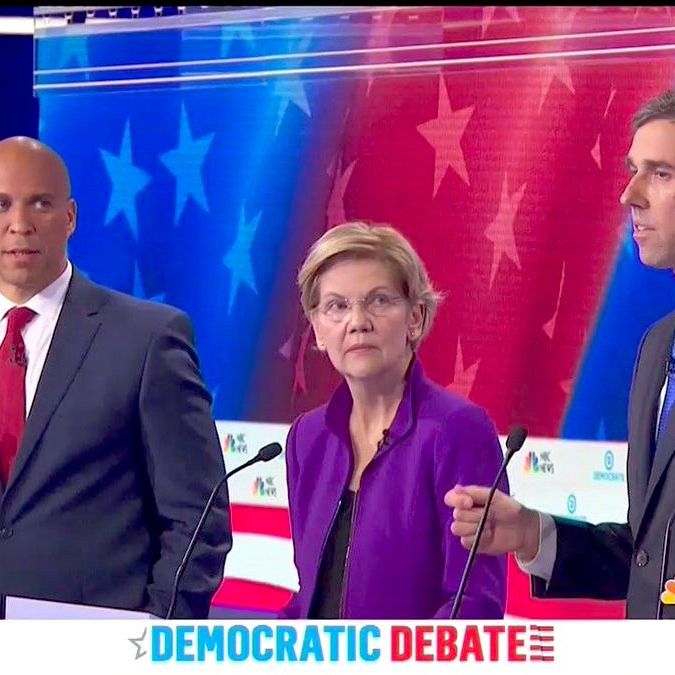 Cory Booker, Elizabeth Warren, and Beto O'Rourke.
Photo: Screenshot
When former representative Beto O'Rourke walked onstage for the first of the 2020 Democratic debates, he had one job: to remind members of the electorate why they felt so inspired by his senatorial run against Ted Cruz last year in an attempt to improve his currently not-so-great standing. And then something went wrong. He appears to have started malfunctioning.
Not even ten minutes into the debate, Beto let on that he was in way over his head when he, looking nervously ill, flexed a skill he would go on to use the rest of the night: responding to — but not answering — questions in Spanish. When asked whether he supports a 70 percent individual marginal tax rate, he spontaneously broke into the language. His effort, while admirable, was incredibly awkward, and evidently shocked the other presidential candidates onstage as much as it did viewers. Cory Booker, who was separated from Beto by Elizabeth Warren, looked deeply stunned.
And then Beto's hard drive continued to break down. He did this weird little thing with his hands that looked like an Illuminati sign but was surely a symptom of his palpable nervousness. Though he looked forward into the camera when speaking in deep concentration, behind his eyes there was nothing. And though we could not see it, under Beto's suit, there was certainly sweat.
While it wasn't quite disastrous, Beto's performance tonight likely did nothing to help him in the polls, where he continues to lag week after week. But at least he didn't climb on top of his podium, I guess?