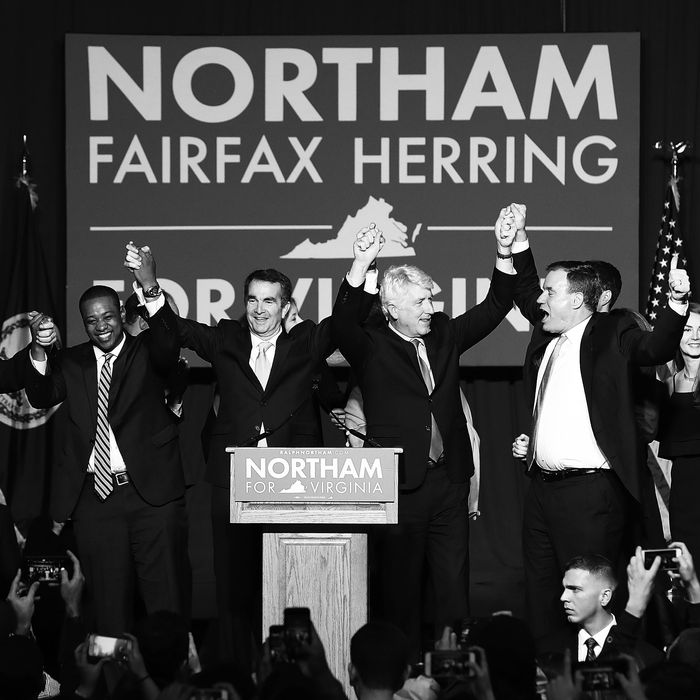 Photo: Win McNamee/Getty Images
Recently, I've been reading about a hypnotically ugly — and sad — political mess that serves as a parable about the current state of power in this nation.
It's been happening in Montgomery County, Pennsylvania, where I grew up and where, in 2017, State Senator Daylin Leach, a progressive Democrat with a strong history of advocating for women, was accused by eight of them of harassment. Back in 2017, responding to one former colleague's essay recalling her discomfiting experiences with him — the ways in which he'd behaved inappropriately with other women, and especially how she'd been intimidated when she'd tried to raise concerns — Leach posted and then deleted a comment on Facebook reading, in part, "you are a truly horrific monster … you are just a human wrecking ball of hate."
Though many in his party, including Pennsylvania governor Tom Wolf, called on Leach to resign back in 2017, he refused.
And in his aggressive, nasty refusal, he made things harder for his colleagues as well as for his party, which was forced to work around his poisonous presence. In 2018, Katie Muth, a Democrat and rape survivor who had called for Leach's resignation, was running to unseat one of Leach's Republican colleagues in the state senate. Asked to appear at an event alongside Leach, who served in the caucus she hoped to join, Muth refused, citing the multiple harassment charges that had been made against him. In response, Leach lashed out at her, calling the then-candidate running for a seat in his caucus "a dreadful person" and "a toxic hand grenade." (Muth won her race; she is now Leach's colleague in the Pennsylvania legislature.)
Early this year, Leach was accused of having forced a 17-year-old to perform oral sex on him back in 1991, when he was a 30-year-old attorney defending the minor's mother on a murder charge. At that point, Leach did cede his role as the chairman of the state's judiciary committee, but he also sued his accuser for defamation. This spring, a Pennsylvania school district disinvited Leach from a discussion of education policy. Leach again adhered to the Trump-Kavanaugh model of angry (and punitive!) self-defense, noting menacingly that "there are grants available that I have the ability to direct and [the school district] is not even able to make their case because of this decision."
When, this month, a law firm produced its preliminary report on an investigation into allegations against Leach, the Democratic caucus described it as having found "a lengthy pattern of troubling behavior … regarding Sen. Leach's interactions with a number of women." Leach released a statement calling the report a "vindication" that "absolved me of false charges made against me." Pennsylvania's senate minority leader Jay Costa released his own statement, describing the report as showing that "Sen. Leach's course of conduct created an unprofessional and sexualized environment. That should not be tolerated in any workplace; we will not tolerate it here." He again called for Leach's resignation.
It is, in fact, almost impossible to tally the number of Democrats who have publicly called on Leach to leave office at this point: the governor (twice), the lieutenant governor, the county chairman, Congresswoman Madeleine Dean, the state's treasurer, the Montgomery County Democratic Committee. Everyone, really, in his party has asked Daylin Leach to give up his state-senate seat.
Daylin Leach has not resigned. After the release of the June report, he declared that he "will not resign, under any circumstances." Leach's current Twitter bio reads, in part, "Like Gandhi, but less."
Leach's unwillingness to budge is one of several dispiriting stories — certainly not limited to Pennsylvania — that make clear that all the Democrats seem to have gleaned from these years of autocratic power-(and pussy)-grabbing is the very worst lesson: how to cover their own asses and get away with exactly the kind of bad behavior that the party is supposed to be intolerant of.
In recent years, the right has broken every rule and dispensed with every nicety in their drive to build a federal judiciary of hard-right bloggers with lifetime appointments. They've blocked Democratic appointments and stolen a Supreme Court seat; rode roughshod over convention, precedent, and the Constitution; suppressed the vote; empowered lame-duck legislatures to curb the powers of newly elected Democrats; encouraged the spread of fake science to back their climate-change denialism and drive to control reproduction and engaged in take-no-prisoners partisan warfare. In doing so, they have effectively remade our system and politics to fit their reactionary desires. All while their Democratic opposition has too often smiled awkwardly and continued to talk about playing nice with their gleefully wolfish foes.
Nationally, this summer is yet another marked by torpid timidity and polite somnambulance from many Democratic leaders. While a few of the primary candidates are out there swinging, the rest of the party often remains far too hesitant to fight back fiercely — to encourage outrage, protest, to make livid noise about the president and his party's willingness to defy the Constitution and evade oversight.
I listen as Democrats issue clipped calls to civility; as their leading presidential candidate praises segregationists and extols the virtues of bipartisan comity. I seethe when I read California senator Dianne Feinstein say of E. Jean Carroll's accusation that the president violently assaulted her 25 years ago, "It's not particularly new news, so I don't know … I don't think we need to take action." I head-desk at the flaccidly atonal "Boy bye" messaging aimed at the president yet coming from the party that is unwilling to even begin impeachment proceedings, despite having been practically begged by Robert Mueller to do so, and despite knowing full well that a Republican House would have impeached Hillary Clinton before getting out of bed on January 21, 2017. "Boy bye" is especially rich, I think, coming from a party whose leadership cannot vociferously condemn a credibly accused rapist leading the opposition party, and too often cannot even successfully expel its own problem men.
In early June I watched Virginia governor Ralph Northam, standing alongside Lieutenant Governor Justin Fairfax and Attorney General Mark Herring, announce that in response to the mass shooting in Virginia Beach, he'd be recalling the legislature for a special summer session to enact stricter gun-reform laws. "We must do more than give our thoughts and prayers" was Northam's message. "We must give Virginians the action they deserve." I wholeheartedly support stricter gun-reform laws and long to see Democrats rouse themselves to aggressive engagement in response to injustice and grievous harm.
Yet all I could think was: How the hell are these guys still running this state?
Back in January, after a photo alleged to be of Northam in blackface alongside a person in a Klu Klux Klan outfit was made public, Northam and Herring, both white men, admitted to having separately taken part in blackface in their young(ish) adulthoods. In response, Herring offered a thoughtful self-appraisal and apology; Northam first acknowledged he was in the picture, then wondered if maybe he wasn't, during a bananapants press conference at which it briefly seemed possible that he would moonwalk in imitation of Michael Jackson.
Voices from across Virginia, the Democratic Party, and the nation called on Northam to step down. He did not.
In the same period, Fairfax, who would have become governor had Northam resigned, was accused by two women of having sexually assaulted them. Fairfax categorically denied both women's stories, claiming that the encounters had been consensual; he also denied the NBC News report that his reaction upon hearing the first accusation was "Fuck that bitch."
Activists, the Virginia legislature's black caucus, and several presidential candidates called on Fairfax to step aside.
He did not. And on the final day of the state's legislative session, he gave a speech in which he compared himself to victims of lynching in his state, many of them black men falsely accused by white women of sexual misconduct, in which he failed to acknowledge that both of the women who claim he assaulted them are black.
Perhaps most revolting — though lost to the churning news cycle — is that Fairfax and Northam, both of whom kept mostly low profiles in the weeks following their scandals, made their first joint public appearance in late March at an event honoring the legacy of the civil-rights leader Dorothy Height. At the event, Fairfax spoke again of those victims of lynchings who'd been "falsely accused … not given due process … [had] their lives in so many ways impacted negatively, in some ways taken away, because people wanted not to get to the truth but ultimately wanted things changed in a negative way for nefarious reasons." As the New York Times noted, Fairfax's use of the situation to lash out at his accusers was "barely subtext." Neither Northam nor Fairfax appeared aware of the grotesque irony that they were using a service to honor Height, a black woman who spent her life fighting racial and gendered injustice, to launder their images after having been accused of racist and misogynistic power abuse, or that Fairfax was marking the occasion by implicitly impugning the words and dignity of the two black women who have spoken up about him.
The stories of these men offer a stark view of how those in power may stay in power — by simply refusing to respond to calls to step aside, by pretending that claims made against them are the aggressive acts, they the victims. They are models of how, simply by not taking seriously the requests of colleagues, party, or sometimes constituents (voters were divided on whether Fairfax, especially, should step down), they may simply wait out challenges to their authority and, in doing so, retain their power, even if, in the process, they weaken their party.
As Ben Tribbett, a Democratic strategist, pointed out to the New York Times this spring, it was the adoption of a whole new strategy, cribbed from Republicans: "Don't apologize, move on, and everybody will talk about something else next week…. Maybe we've been doing it wrong over the last 100 years."
Of course, "doing it wrong" presumes that the "right" outcome is evading oversight and censure from the left, vilifying and discrediting critics and colleagues, acting like the victim, thereby hanging on to your job. So the big lightbulb for Democrats appears to be that the one neat dictatorial trick to maintaining their power is simply to not cede it.
Of course, we know who has most flagrantly and successfully modeled this evasive-aggressive reaction to challenge: the current president. It was on full display this past weekend, as much of the press and nearly all of the Republican Party simply whistled through the horrifying allegations leveled by Carroll in New York: that Donald Trump violently raped her in the 1990s in a dressing room at Bergdorf Goodman.
As Carroll herself described the now-familiar playbook to CNN, speaking specifically about Trump but describing a familiar cycle that is not exclusive to the president or his party: "He denies it, he turns it around, he attacks, and he threatens and everybody forgets it and the next woman comes along and I am sick of it … Think how many women have come forward; nothing happens."
Just two days later, Carroll's despairing prophecy would be confirmed by Illinois senator Dick Durbin, a Democrat, who said, "I wouldn't dismiss it, but let's be honest, he's going to deny it and little is going to come of it." Durbin, quoted in the same article in which Feinstein suggested that there was no need for Democrats to "take action" in investigating or pressing the president on Carroll's claim, were of course ensuring that Trump's thuggish approach to self-protection will continue to work, not only for him but as a template for those in both parties who want to keep their gigs even if they have been credibly found to be in violation of moral, ethical, or legal regulations.
Becoming oversight- and penalty-resistant — simply by driving forward through credible allegations that once might have been damaging but which you frame as fraudulent and malevolent with such conviction that even your opponents throw up their hands in wan defeat — makes more sense for politicians on the right.
That's in part because contemporary right-wing priorities and ideology line up far more neatly with the waving-off of charges of racism, sexism, xenophobia, and authoritarian power abuse. Hell: Those are some of the things that Donald Trump and company promise voters! Pussy-grabbing and concentration camps are all very on-brand, as they say, in a party whose mission — Making America Great Again — is to keep rich people rich and poor people poor.
You might think it would be trickier for Democrats, who are ostensibly on the side of the marginalized, who are supposed to stand vigorously against things like blackface and assault, and who purportedly value the well-being of the collective over the accrual of power by the individual.
But it turns out that by simply putting their heads down, not caring much about their critics and discrediting their accusers, by being willing to undermine claims made against them on racial and gendered grounds, Democrats can keep their jobs through scandal too!
The United States may pride itself on being a nation built around mechanisms meant to keep the politically powerful in check. But the claim that either party truly holds itself to a system of checks and balances in the face of individual misbehavior has always been shaky; corruption and illegal behavior have extended throughout history and across party lines; the nation has dynasties and nepotism and political machines that have protected the guilty. Voters don't always condemn scoundrels; often they have rewarded them. Absolute power corrupts absolutely and all that.
Consider that in New Jersey, Democratic senator Bob Menendez spent three years facing felony-corruption charges, simply refusing to resign. Those charges were later dropped after a hung jury and resulting mistrial, and Menendez still represents New Jersey.
Democrats didn't push Menendez to surrender the seat because they feared that a Republican would win it, eroding their numbers in the Senate and thus their power, for instance, to vote on any of the Supreme Court nominees that Mitch McConnell permitted them to. And while it is wrong from nearly every moral and ethical perspective, at least it has some tactical value. This is of course the point, the endless cycle, one that Chris Hayes detailed in his 2012 book The Twilight of the Elites: The more the powerful elect to flout every rule and convention with an eye to preserving their own power, the reasons not to do this fall away, creating a kind of race to the bottom. This establishes a pernicious precedent, not just on the federal level but in state and local governments, where corruption has always been more easily hidden, consequences more deftly evaded.
In Texas last year, Democrat Carlos Uresti, who had served as a state senator since 2006, and before that as a state rep since 1997, refused to quit his seat for four months after being found guilty on 11 federal felony convictions, and after his state's Democratic caucus called on him to resign. Unrelatedly, Uresti had been one of two Texas Democratic state legislators, along with State Senator Borris Miles, to be accused of repeated sexual harassment in December 2017 in a lengthy Daily Beast story.
Uresti finally resigned in June 2018, one week before being sentenced to 12 years in federal prison; Miles is still a state senator and responded to the harassment allegations against him with a statement that characterized his critics as "powerful enemies who will go to any length to destroy and disrupt my service." 
That "powerful enemies" line, directed even tangentially at women and men who told stories that were reported by the press, is of course awfully close to Trumpian condemnation of the press itself. The similarity speaks to how all claims of power abuse seem to be inverted by those they are made against, regardless of party: as attacks, abuse directed at them. It's a crazy setup, one that helps to justify and normalize what is in fact a belligerent refusal to respect or comply with the mechanisms, including journalism, that we have in place to bring to bear any measure of accountability on our elected leaders.
To be clear, it's certainly not true that every politician accused of impropriety should promptly step down. But in an era in which we are frequently asked to consider what will happen to men accused of harassment or assault — when we speak too easily about how they've had their lives ruined, ended even! — it's hard not to notice what has actually befallen some of them: They have become president of the United States; they sit on the Supreme Court; they are state legislators who are like Gandhi but less; they are the lieutenant governor of Virginia who hopes still to become the state's governor.
And their ability to stay in power means that others, briefly deposed, can more easily imagine reentering. Consider the announcement last week that credibly accused Republican child molester Roy Moore, a racist birther who has made comments about America's greatness when slavery was legal, would run again for the Alabama Senate seat he lost in the fall of 2017, or that Virginia Democrat Joe Morrissey — forced to resign his delegate seat in 2014 after pleading guilty to having sex with his then-17-year-old receptionist when he was 56 (she is now his wife); then forced out of a mayoral bid in 2016 after being accused of sexual harassment — just unseated an incumbent Democrat, a black woman, in a primary race in June.
What all this reinforces is that what is important seems to be power for power's sake, not power on behalf of making more resources available to more people; not power on behalf of simply doing the right thing.
Or perhaps it's that it's all about another Trumpian notion that some in the Democratic Party seem to feel comfortable with: the belief that only they — Daylin Leach and Ralph Northam and Justin Fairfax and Borris Miles — can fix things. That the greatest victory is in preserving your very special individual authority, not in stepping aside and letting others come in and do the work that must be done.
The fact is that neither Northam or Fairfax had to keep his job in order to keep the state in Democratic hands. They could have strategically made choices to step aside in an order that enabled them to appoint other Democrats — perhaps progressive women like Virginia state senator Jennifer McLellan or delegate Jennifer Carroll Foy, both of whom happen to be black women — to lead the state. Neither man appeared willing to move toward this outcome, even in a party in which black women are the party's most consistent voters, in a state that has only ever elected one woman (white) to statewide office, and in a country that has never had a black woman governor in its history.
Of course, it is not a coincidence that the rise of authoritarian strategies to preserve individual power has happened alongside, or rather in reaction to, the calls for better representation of people who've historically been denied a fair share of power.
It's not surprising that it was the black president who got denied his court picks, that it's black women whose claims of harassment and assault get most readily impugned and ignored, or that it's a woman who loses to a man who brags about grabbing pussies and inviting foreign interference in elections, all while other men bray about stealing a Supreme Court seat and moonwalk through their press conferences.
The reentrenchment of authority isn't just about partisan tactics or holding on to majorities. It's also about preserving older kinds of power against the encroachment of those who've historically been denied it but now are trying to demand a share.
It's men (many of them white) and white people (many of them men) who seem most likely to simply hold tight and refuse to be moved by those whose claims against them they would not have had to take seriously two generations, or perhaps even two decades, ago.
That's deleterious to democracy. No matter which party it comes from.
This story has been updated to correct the identity of the woman Leach was defending on a murder charge.