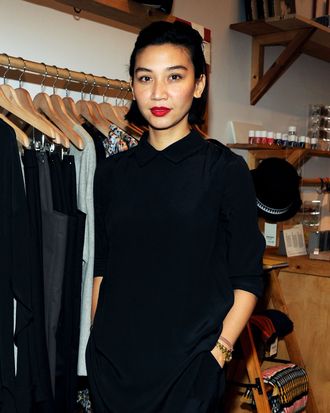 Suzanne Rae Pelaez.
Photo: Ben Gabbe/Getty Images
You know the "I Want Candy" montage in Marie Antoinette? Suzanne Rae Pelaez's shoes wouldn't be out of place surrounded by those macaron-colored boxes. But while there is an extravagant handsomeness about them (the mules with organza bows feel particularly Antoinette-y), there's something quirky, retro, and modern as well. Brooklyn-based Pelaez makes the twee Mary Jane style feel cool by using bright colors, square toes, and luxe metallic and satin finishes. They look especially fresh when paired with the brand's magenta pants with white fringe.
The brand has become a favorite among fashion people in the past year or so, appearing in fashion magazines like i-D and Teen Vogue and on stars like Aidy Bryant. And on top of that, the brand is committed to sustainable practices and supports several women's groups and environmental organizations. Wins all around. We spoke with Pelaez about her quirky-classic style, the Sahara Desert, and Billions.
How do you thank someone for a gift?
I think a thank-you card is always a lovely thing.
What would you never wear?
Anything that I found itchy.
What's your dream vacation?
Somewhere that I've never been before, like to the Sahara Desert, where I could have total relaxation mixed with culture and great food — a balance of luxury and magical inspiration.
What's a good book on your coffee table right now?
The Mandarins by Simone de Beauvoir.
Last show you binge-watched?
Billions.
Secret to hosting a good party?
Keep the wine flowing.
What is a trend that you like right now?
I love ribbons in the hair.
One you don't understand?
I'd rather not judge.
Favorite museum/gallery?
Musée de la Vie Romantique in Paris.
Shoes you wear most often?
Our faux-fur-lined slide. I have a pair for in the house and out of the house at all times.
Can you share three photos of yourself that define your style? And a brief explanation of why?
I thought these were good because they show my personality. Quirky classics perhaps is my style.
What's your favorite …
Pajamas? Antique linen pajamas from Italian markets.
Candle? Le Labo Santal 26.
Scent? Byredo Rose Noir.
Restaurant? Blue Ribbon Brasserie.
Socks? Maria La Rosa.
T-shirt? Our inverted-seam tee in organic interlock cotton.
Shop the Story
If you buy something through our links, New York may earn an affiliate commission.