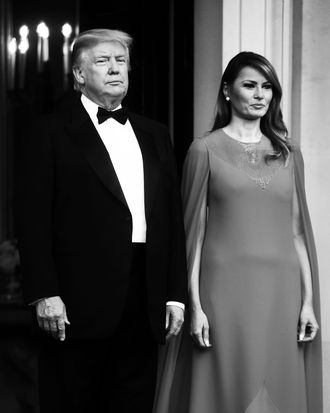 Donald Trump and Melania Trump.
Photo: PETER SUMMERS/Getty Images
In recent years, we've been able to glean a fair amount about President Donald Trump's marriage to First Lady Melania Trump. We learned all about their bathrooms (separate) and their sleeping arrangements (also reportedly separate). We heard about how he bought her a "beautiful" card for her birthday, we saw some affectionate hand-swatting, and, oh yeah, there were all the infidelities and allegations of misconduct on his end.
And on Friday, we found out something else about their marriage: Trump refers to Melania as "it." Or at least, the president did during an appearance that day on Fox & Friends.
As heard in video shared by Talking Points Memo, Trump called into the show to chat about his plans to repaint Air Force One (in a way that would make it look a whole lot like his private jet). He then, per TPM, noted that the current design for the presidential jet came from former First Lady Jacqueline Kennedy Onassis — then likened her to Melania.
Trump told the Fox News hosts, "There was Jackie O, and that's good. But we have our own Jackie O today. It's called Melania. Melania. We'll call it Melania T. Okay?" The president then went on to say, "By the way, people love her. People love her. She gets no credit from the media but she gets credit from the people."
Ah, yes. Referring to your wife repeatedly as "it" and then giving her a new nickname that surely won't stick. The height of romance.