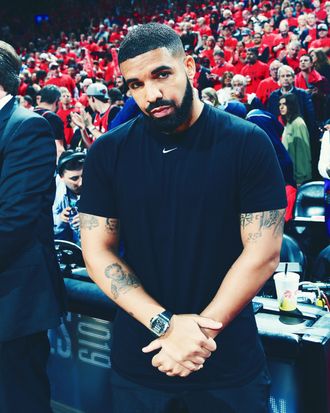 Photo: Ron Turenne/NBAE/Getty Images
Last night, the Golden State Warriors narrowly defeated the Toronto Raptors in Game Five of the NBA Finals. Also last night, Drake wore a watch that said, "I'd love to kiss your pussy."
As "Page Six" noted, the oft-spurned and forever thirsty rapper paired his black Nike T-shirt and track pants with a $750,000 Richard Mille "69 Tourbillon Erotic" watch, which looks like a grown-up Baby G and includes three bars that generate different erotic phrases for wearers to proudly display to the people around them.
What kind of phrases, you ask? Per "Page Six":
The top bar can be changed to display statements like, "I want to," "I need to," "I long to," "I lust to," "I'd love to" and "Let me." The middle bar adds in the active verbs, such as "explore," "taste," "kiss," "arouse," "devour" and "caress." And the bottom bar gets into the specifics: "you tonight," "your lips," "your body," "your nipples," "your p—y" and "you madly."
According to the Richard Mille website, "Erotic timepieces are part of watchmaking history," which, sure. Drake's watch, the RM 69 (nice) "plays on the desire to openly express passion, sensuality and even sexuality." It also has a 69-hour power reserve, the horniest power reserve of all.
The erotic announcements are "activated on request by pressing a button at 10 o'clock," which then "reveals the wearer's deepest desires," or at least one of 216 possible deepest desires, such as "I lust to arouse you tonight," or "I need to taste you madly," or "I need to taste your nipples." The RM 69, it seems, is not into asses or dicks.
Drake's choice of timepiece for last night's game raises a lot of questions. Not about why he would spend $750,000 — be honest, in your heart you already knew that Drake, the guy who has been collecting Birkin bags for his future soul mate, owned an expensive horny watch. No. It raises questions like: How long did it take him to settle on a sexy phrase he liked? Before the game, was he sitting on the edge of his bed, angrily tapping the button at 10 o'clock until he got, "I'd love to kiss your pussy"? And then, once it was set, how did he communicate his watch's desire to the people around him? After belting "O Canada," did he turn to his neighbor and say, Psst, check this out, and stick out his wrist? Or did he wait and wait for someone to ask him what time it was, and then, with a deep, satisfied sigh, say, Funny you should ask …