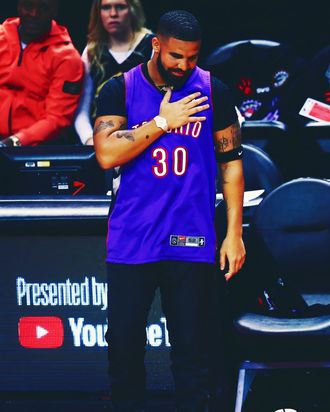 Drake.
Photo: Vaughn Ridley/Getty Images
Now that Drake has great abs and his own plane, he could fly or do the worm to any location in the world at the drop of a hat. But his heart still belongs to Canada.
The Toronto-born rapper was spotted Monday night at game five of the NBA Finals between the Raptors and the Warriors at the Toronto Raptors Scotiabank Arena, geeking out as if no one were watching.
When everyone jumped up from their seats for the Canadian national anthem, the camera lingered on Drake, who was belting the patriotic tune, eyes tightly shut, head swaying like a pair of windshield wipers in ecstasy. The internet, predictably, went crazy over this vision.
By the end of the rendition, Drake was positively giddy, like a man at a sports bar whose jukebox selection has just come on. Or like Americans when they hear their national anthem anywhere?
As the game progressed, the rapper continued to steal scenes. When Warriors player Kevin Durant was walked off the court due to an injury, Drake pouted and grimaced in an apparent attempt to comfort the basketball star.
And, in case you blinked and missed it, Schitt's Creek star and native Canadian Eugene Levy was also at the game, handing out "O"s for Canada.
And I am not kidding when I tell you Wayne Gretzky was also there. Not only that, but of all the celebrities in attendance the crowd reportedly cheered for him the loudest. O, Canada.