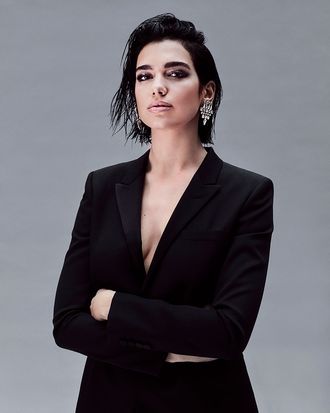 Photo: Courtesy of YSL Beauty
"She is pop music's bold new voice. She is a dreamer and a doer. She is a cultural definer. She is a fashion icon," reads a new release from YSL Beauté. If you're still completely lost, she is Dua Lipa and she is also the newest YSL Beauté fragrance ambassador.
If you're still asking why Dua Lipa?, Yves Saint Laurent has four more very good reasons, actually: "Because she can be powerful and hyper-feminine. Ultra-cool and burning up. Because she embodies today's liberated, no-compromise, write-your-own-rules YSL woman. Because her fierce brand of freedom and sensuality expresses the fiery legacy of Yves Saint Laurent."
There you have it, and it's true: Lipa has done a lot in the vein of the fierce YSL woman. She's advocated for bold pantsuits when most were still in doubt; she tried dark-green hair when most skewed slime; she got a bunch of people through breakups while surpassing a billion views on YouTube; she became the most streamed female artist in the world; and she succinctly shaded men while winning just one of her five highly televised and impressive awards (two Grammys, three Brits).
For the collaboration, Lipa will be wearing more suits and starring in a new "exhilarating campaign" shot by Nabil for a mysterious "new feminine fragrance" that launches in September 2019. Lipa noted in an Instagram post that she also played a "small role in helping choose the final scent." I sincerely hope it smells "ultra-cool and burning up," which truly is the best way to describe YSL's beauty ambassadors as of late.