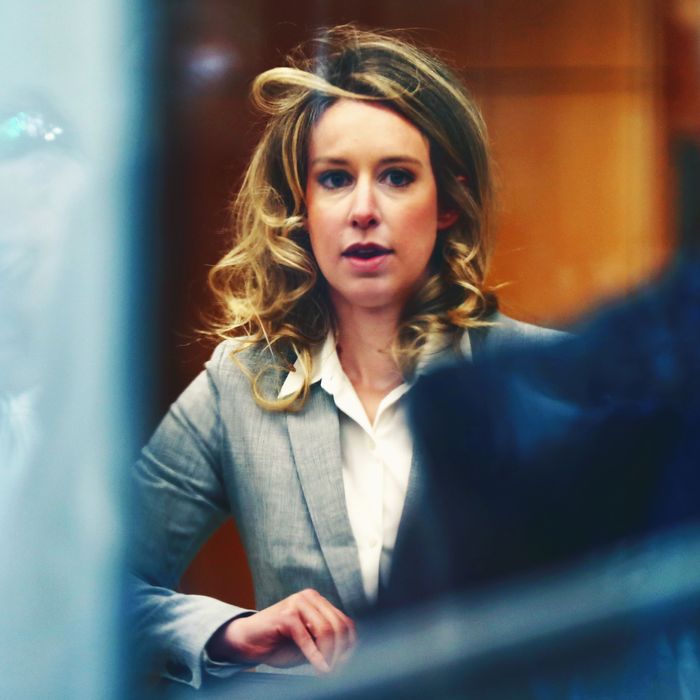 Elizabeth Holmes
Photo: Justin Sullivan/Getty Images
Today, Theranos founder Elizabeth Holmes arrived at a court in San Jose, Calfornia, for her pretrial hearing wearing barrel curls. And people definitely noticed. What does it all mean?
There are many things to malign Theranos founder Elizabeth Holmes for — namely fraud — but her hair has also made it into The Discourse. Writers have never been able to resist trying to figure out why a woman who was so determined to prove her seriousness also had such frayed, damaged, bleached-blonde hair. (At Racked, Rebecca Jennings posited that the split ends were actually a sign of seriousness; a way of proving she was too busy for Fox News blowouts.)
For court, Holmes seems to be shedding her staples. In April, she ditched her turtleneck for a nondescript gray suit. Back then, she still wore a ponytail. But now, she's shifted to a style more identified with a pageant queen from Mississippi or a contestant on The Bachelor than a Fortune 500 CEO.
In the past, Holmes's sartorial efforts seemed geared to make her fit in better in the masculine world of start-up culture. Conversely, these curls could be a way of signaling youthfulness, innocence, and femininity devoid of fault. In other words, maybe Holmes is trying to say "I'm baby, don't convict me."