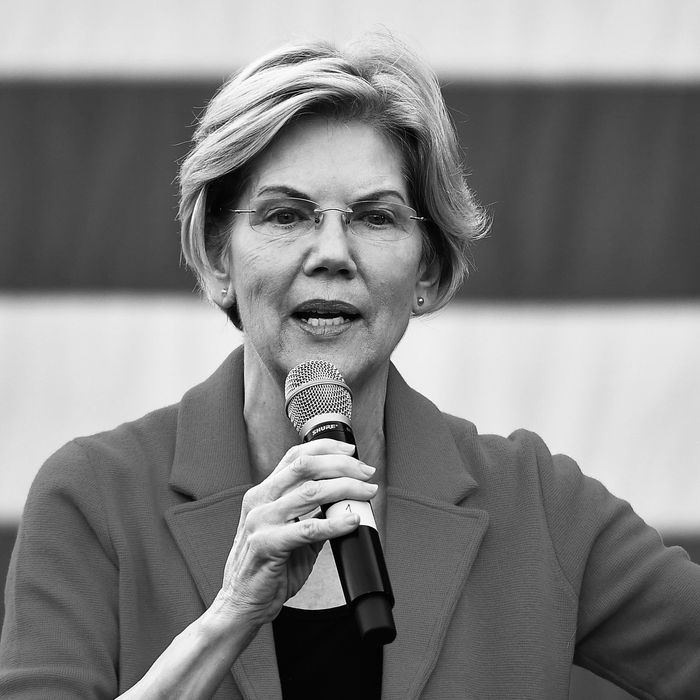 Elizabeth Warren.
Photo: MANDEL NGAN/AFP/Getty Images
Senator Elizabeth Warren, the Democratic presidential candidate who keeps pushing out policy proposal after policy proposal, has already assembled one of the largest campaign staffs in the crowded 2020 field. Now, her campaign staff has moved to unionize — and her campaign management has officially recognized the union, HuffPost reports.
Warren's campaign staff is the third to unionize so far in the race for the 2020 Democratic presidential nomination, according HuffPost. Bernie Sanders's 2020 campaign staff was the first to unionize back in March — which the Vermont senator recognized immediately — while Julián Castro's staff unionized, and was recognized, in May.
Warren's staff has unionized under the International Brotherhood of Electrical Workers (IBEW) Local 2320, per HuffPost; her campaign management recognized the union on Monday. Steve Soule of the IBEW said that the union is in the "very beginning of the collective bargaining process," adding that he believes other presidential campaigns will be inspired to organize by the recent unionizations (as well as the ongoing efforts of the Campaign Workers Guild, with which IBEW is not affiliated).
Reuters reported in April that Warren had built up the biggest campaign staff of the crowded 2020 election cycle so far. By the end of the first quarter of 2019, Warren's campaign had a staff of 161 members — about half of them positioned in primary states. At the time, Sanders's campaign had 86 people on payroll, compared to 44 on Senator Kamala Harris's payroll. However, President Donald Trump's reelection campaign receives help from the Republican National Committee, which has hundreds of staffers.