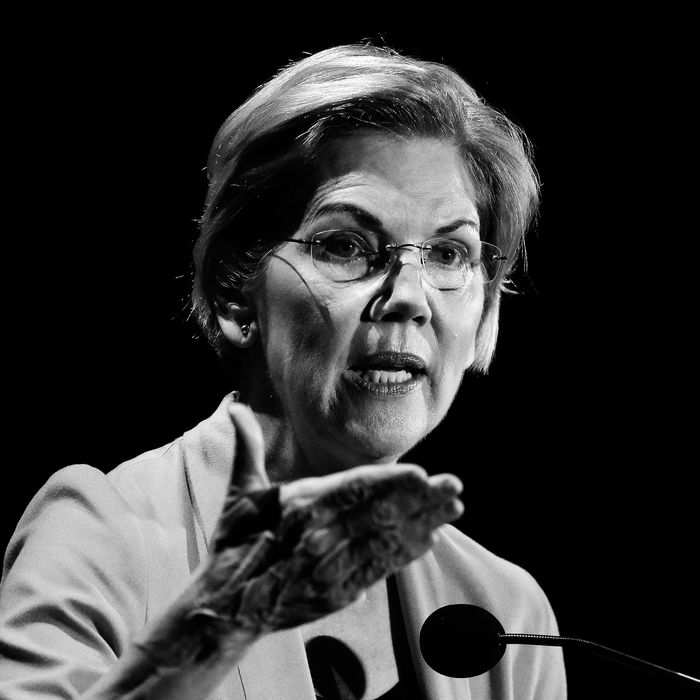 Photo: Joe Skipper/Getty Images
Senator Elizabeth Warren is now running on what people have been saying about her for months: She's got a plan for that — for student loan debt, for expensive child care, and now, for private prisons. On Friday, she released a new plan that would, she says, ban private prisons. Warren isn't the only Democratic presidential candidate to criticize private prisons, or to suggest an end to their use. As the Los Angeles Times reported on Friday, Senator Kamala Harris has also criticized them, despite her troubling record as California's attorney general. And Senator Bernie Sanders wrote on Medium that we must "end the existence of the private for-profit prison industry."
In her own Medium post, Warren hits a similar note. She says she'd end "the use of federal private detention facilities by ending all contracts that the Bureau of Prisons, ICE, and the U.S. Marshals Service have with private detention providers." Local governments would lose public-safety funding if they failed to use public prison facilities. Warren also pledges to block private-prison contractors "from charging incarcerated and detained people for basic services they need," including phone calls to their families and over-the-counter medication, and to force them to end "exploitative price markups" on commissary items. She would implement several new transparency measures. She would also make contractors subject to FOIA, and appoint an independent monitor at the Department of Justice to investigate conditions in prisons.
"Washington hands billions over to corporations profiting off of inhumane detention and incarceration policies while ignoring the families that are destroyed in the process," she writes. "We need to call that out for what it is: corruption."
Warren's plan would immediately address some pressing human-rights abuses, even if it would not dismantle the carceral state itself. Most incarcerated people don't live in private prisons. According to the Sentencing Project, a nonpartisan group focused on criminal-justice reform, private prisons only incarcerated 8.5 percent of the state and federal prison population in 2016. But their use is increasing, and they are notoriously abusive to the people they cage. A 2016 report from the Department of Justice's inspector general found that private prisons "incurred more safety and security incidents per capita" than similar, low-security public facilities, including the use of force on incarcerated people. As German Lopez noted at Vox at the time, the same report found that private prisons were more likely to place people in solitary confinement because they'd run out of space.
Conditions can also be inhumane. In 2018, the New York Times reported that people incarcerated at the private East Mississippi Correctional Facility were dying by suicide, and had in some cases begun to set fires in their cells to protest the prison's lack of adequate psychiatric care. Immigrants suffered extreme abuses in private facilities even before President Trump took office, but Trump has exacerbated the problem. Reuters reported in February that at the privately run Homestead detention center in Florida, the government had waived a federal requirement "meant to ensure children receive sufficient health care," and there are now seven allegations of child sex abuse connected with the facility.
Ending mass incarceration will take more than a ban on the use of private prisons, or restrictions on their financial abuses, but these proposals aren't bad places to start.