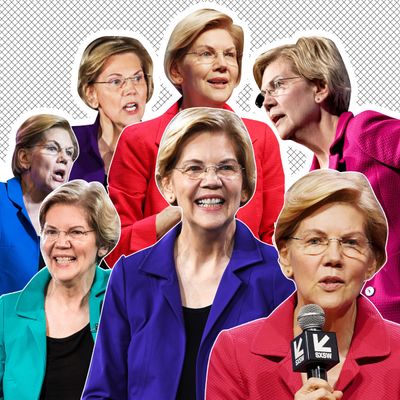 Watching Elizabeth Warren during the first Democratic debate last night was incredibly satisfying. I mean that in the most surface-level way: Her outfit was a source of visual pleasure.
Compared with the nine other candidates onstage, some of whom I'd admittedly never laid eyes on before, Warren looked as if she knew exactly what her deal was and could tell you in about three straightforward sentences. She wore her usual uniform of loose black pants, a black top, and a jewel-tone jacket (bright purple, in this case) with a popped collar and cuffed sleeves, presumably by her go-to designer, Nina McLemore, who dresses many powerful women in Washington. She also wore her signature tiny stud earrings, the only adornment she ever indulges in besides rimless glasses and her wedding band. (Her skin care was also on point, but that's another story.)
Warren was flanked by Beto O'Rourke, who looked uncomfortably large in his tailored suit, and Cory Booker, who has been ridiculed for his outfit choices in the past and played it safe (read: boring) last night. By comparison, Warren seemed more natural; you could tell she wasn't playing dress-up. The other female candidates onstage — Tulsi Gabbard in a sharp buttoned blazer and Amy Klobuchar in a skirt suit — embraced a traditional, more formal uniform. But there's an easiness to Warren compounded by a no-fuss practicality that might stem from her humble beginnings. As Robin Givhan wrote in 2016, her sleeves are often rolled up "as though she could immediately dive into a messy situation without pausing to worry about her nice frock."
Warren's campaign mantra has been that she has a "plan for everything." (Even selfies.) A former Harvard law professor, she has described herself as a "data nerd," and her wardrobe reflects this obsessive kind of calculation. In a way, it reminds me of Elizabeth Holmes, who consistently wore black pants and a black turtleneck not only to trick Silicon Valley into thinking she was Steve Jobs but also to streamline and maximize every minute of her busy day. Both women treat their image like a problem that can be solved, and that's satisfying to me, especially in the often fraught context of political dressing. Unlike Holmes's, though, Warren's calculations feel like they've led her to the right conclusion. I wouldn't be surprised if she's running the numbers on color theory as well.
Warren may not be the most stylish person in the room, but she's clearly a nerd about her wardrobe and has found an equation that works for her. That, I can respect.