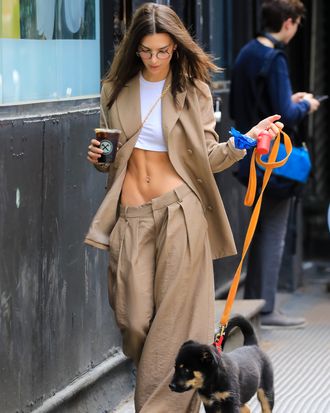 Emily Ratajkowski.
Photo: Say Cheese!/GC Images
Earlier this week, Emily Ratajkowski made a bold sartorial choice: wearing a super-cropped shirt with impossibly low-rise, gargantuan pants that rival the sheer size of Trump's ill-fitting khakis.
Per the Daily Mail, the 27-year-old model debuted her billowing taupe suit on Monday morning, when she stepped outside to buy her morning coffee and walk her puppy, Colombo. To her credit, Ratajkowski, whose torso is no stranger to public spaces in New York City, made the outfit look good — or, at the very least, she looked good. But, the pants … we need to talk about the pants. Clearly, there's some kind of black magic at work that's keeping them from completely falling down to the ground. Why, though, are they that baggy? Do they even still qualified as wide-leg pants? What happens if the puppy gets lost under one of the pant legs?
Imagine how big the pants must look to Colombo.