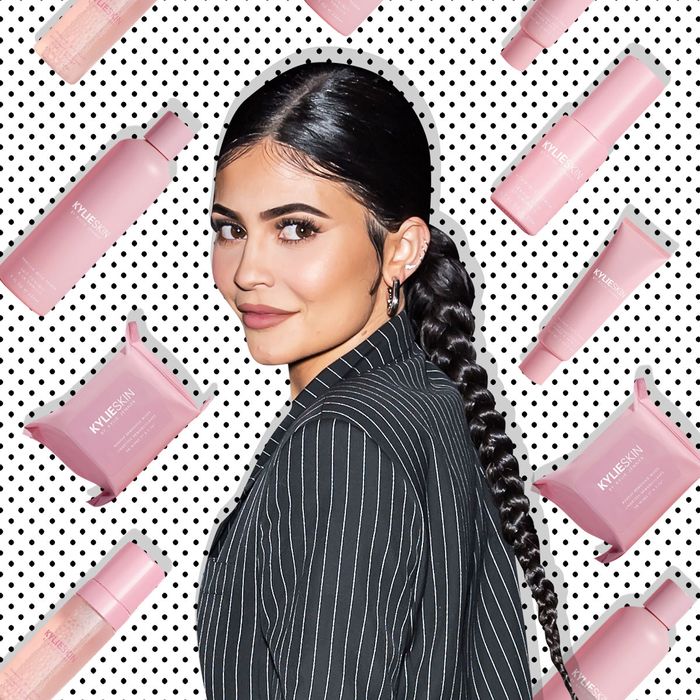 Photo: Getty Images, Kylie Skin
In my line of work, I've witnessed Kris Jenner's children hawk jeans, shoes, makeup, weight-loss supplements, hair products, Sears clothing, candy, vitamins, and socks. But I've never had the desire to buy any of these products until Kylie Skin, the just-launched, pink-branded skincare line by Kylie Jenner.
I love skincare and I love the color pink — my two defining characteristics, honestly. I'm always telling my friends to moisturize and I'm always on the hunt for new products. Plus, of course, I was dying to find out if the controversial Walnut Scrub was as bad as the internet thought, or if Kylie's face-washing fail was due to the cleanser or simply bad promotional skills. So I decided to test Kylie Skin by using the products for one whole week.
I was one of the lucky disciples of Kylie Jenner's Instagram to purchase the full Kylie Skin Kit — including makeup-removing wipes — the moment it all became available. Sitting on my bed with my computer in my lap as though it were a portal directly to Calabasas, I paid just under $200 for seven products.
They arrived on a Friday evening. My sister was over, and we cooed over the packaging like it was my firstborn. It turns out that Kylie Skin products are huge. From Instagram, I was expecting them to be on the medium-to-small side, but I was pleasantly surprised. Their size almost justified the price.
They were also extremely well-fortified. Opening the items took more force and energy than I've ever had to use on a beauty product — like pulling up a pair of too-tight skinny jeans right after getting a manicure. But at last I had them open and ready to try. Read on for my reviews, based on a week of intensive experimentation.
The Wipes
These were utterly dry — like washing my face with a piece of tissue that had been sprinkled with sand. The first one removed none of my makeup, so I tried another wipe to see if the moisture was hiding beneath the first layer, and the result was the same. I resolved to hide the wipes from view and never think of them again. Next!
The Foaming Face Wash
For the first use, I wet my face, took a generous pump, and began to massage it into my skin. The wash doesn't feel too different from any run-of-the-mill cleanser you'd get in the drugstore. What was different was the scent. It's marketed as unscented, but I picked up a slightly chemical fragrance that was not relaxing at all. That said, it did clean everything off my face.
As the days went on, the non-smell smell became the bane of my existence. Hoping to make the experience less unpleasant, I took a look at the tutorial videos on Kylie's YouTube, in which Kris Jenner, and some of Kylie's friends (excluding Jordyn Woods, obviously) show off how to use the products. I was appalled to see them apply the foaming face wash dry. They also appeared to wash just the bottom portion of their faces, avoiding their forehead and eyes. Was I doing it all wrong?
So I experimented with using Kylie's foaming face wash on dry skin. It didn't feel great — like I was just moving the grime around, rather than cleaning it off. The foam felt thick, like it was suffocating my pores. That said, the smell wasn't as strong. Sadly, I don't think any sort of face-washing technique could get me to repurchase this one.
The Controversial Walnut Scrub
I couldn't wait to try this because I love scrubbing the shit out of my face. In fact, I use a daily exfoliating scrub that I truly cannot live without. This scrub did not disappoint. Unlike the face wash, the scent was massively overwhelming — not an annoying hint of a smell, but a bold statement: WALNUT. Mixed with the very real sensation of rubbing fresh-ground walnuts on my face, it made me feel as though I were turning into a walnut. But I could feel it working, pulling all the dirt and gunk from my face.
Then, I hit the same problem I had with all of the products: The packaging isn't clear. I was watching yet another Kylie Skin YouTube tutorial when Kris Jenner said she uses the face scrub once or twice per week, as recommended. Apparently, it's not for daily use. This I learned after using it three days in a row. I feared the worst. Would my face break out like it did when I used apricot scrub for a week in middle school? That night, I noticed some blemishes on my face, which is a rarity for me. I had to blame my overuse of the scrub.
After a few days, I used the scrub once more. I'd missed it! And guess what? I've never been happier to tear off a layer of skin from my face. Is it good for you? Who knows? I just know that I love it.
The Vanilla Toner
This was amazing as well. I'm used to toners that are either liquids or sprays. This one is creamy, and sort of drips off your face as you struggle to keep it from ruining whatever clothes you're wearing. But man, does it smell delicious. I do prefer a vanilla scent, and this one does it just right. Think of the vanilla-bean lotions from Bath and Body Works in the early aughts.
Frankly, I don't understand the point of a toner, though I still use it. I find that it truly takes off the leftover remnants of oil and makeup that the face wash and scrub didn't get out — which makes you question just what is on your face, as the scrub is closely related to a power washer, but your skin still feels fresh and super clean.
Over the week, I realized that of all of the products, the Vanilla Milk toner is my favorite. It's soothing, smells good, and feels the most luxurious of all the products.
Kylie's Face Moisturizer
The moisturizer is tricky because it comes in a tube with a pump top. Online, I thought it looked cool; in action, it was annoyingly hard to use. To get any of the lotion out, I had to pump the top like I was using a defibrillator to revive somebody, and squeeze the tube like I was checking someone's blood pressure. These two things had to happen at the same time. All of this energy isn't worth it. The consistency is quite thin and slimy. Granted, I've used moisturizers from brands I love that have this consistency as well, but I hate those, too.
The Eye Cream
I was excited to use this because I've been looking for an eye cream that actually works. I'm not sure if it worked, but man did it burn — like the lip-plumping gloss we'd use before fillers were common knowledge. I could feel the serum stinging my skin and hopefully de-puffing my eyes with its caffeinated mix.
As with every single product in this line, I started out using this wrong, this time by applying it with my fingers. After watching the people in Kylie's life using the products, I realized that you're supposed to use the nozzle of the eye cream as an applicator instead. A clever idea, but once I put it to action, I noticed how much more product you use this way.
I was skeptical. But then I tried to travel from New York to Los Angeles, and put this (plus the Vitamin C serum) in my purse just in case I needed to look a little bit more alive when I landed. Once on the plane, I immediately fell asleep. Two hours later, I woke up and saw that I was still on the ground at JFK and they were moving us onto a later flight. I looked the way I felt: tired.
Thankfully, I had Kylie's powerful eye cream and serum. I slathered them on, hoping to look like a civilized member of our airport community, and the difference was palpable. I actually looked awake. Thanks, Kylie!
The Vitamin C Serum
This was about the same consistency as the toner. Other than the moment when it saved me on my long travel day, I found it unremarkable.
Conclusions
I had a rocky start with Kylie Skin, but I admit I was pleasantly surprised by the end of the week. The products are still wildly overpriced, but it's an exciting start for a range that will eventually include travel sizes and sunscreen.
I love how all of the products look together, but I did not love how they smelled together. The allegedly unscented face wash, nutty scrub, citrus-scented serum, and vanilla toner collide in an unfortunate symphony of smells, kind of like when you walk through a Lush. Together, they made me want an Excedrin and a dark room.
I wouldn't buy the full set again. The serum hasn't done much for me, the moisturizer needs to be reworked completely, and the face wash is on par with much cheaper drugstore brands. My must-haves are definitely the walnut scrub, toner, and eye cream. I may be experiencing a Kylie-based placebo effect, but these three work best on my skin, and I think they're the most user-friendly.
Still, once my week trial was over, I wasn't eager to pull out my usual products. In fact, I've been using every Kylie Skin product ever since it arrived in the mail, and I will not stop until each bottle is empty.