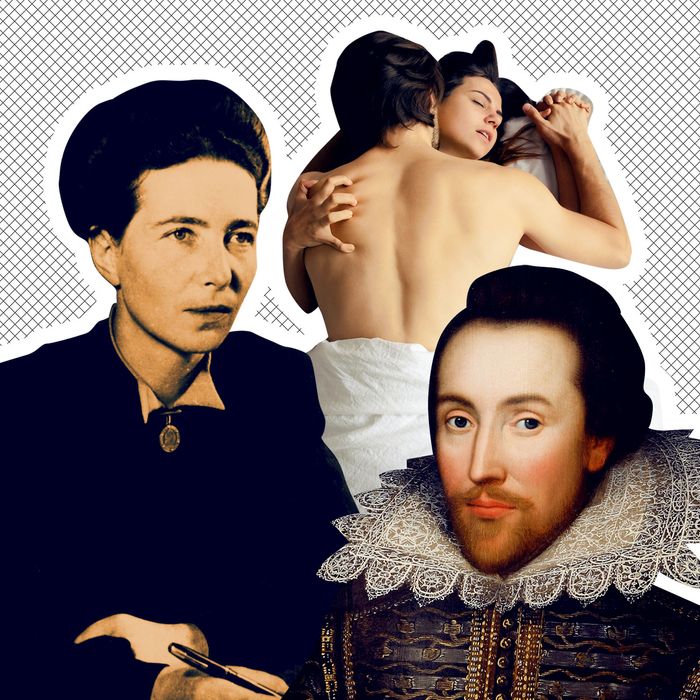 Left to right: Simone de Beauvoir, a couple enjoying the missionary position, William Shakespeare.
Photo: Getty Images
Earlier this week, Australian website and so-called renegade of the intellectual dark web Quillette boldly reaffirmed its right to free speech with a lengthy screed about doing it in the missionary position.
"A Modest Defence of the Missionary Position" by Marilyn Simon takes 2,610 words to expound upon its point about a sex position absolutely nobody is attacking. That's 2,610 words of florid descriptions like "it's no wonder that the ancients spoke of sex as the mystery of one flesh — or rather, it is exactly that: a wonder." That's 2,610 words pleading that we treat boning with the somber respect it deserves because "erotic joy is not something we should take lightly, certainly the serious-minded poets did not." That's 2,610 words that were definitely ghostwritten by the Love-ahs from that old Saturday Night Live sketch.
It's also so long, in part, because it cites so many thinkers and texts to bolster its argument. Here, the definitive list of those utilized in this impassioned defense of the missionary position. (Editor's note: Please do not confuse this piece with the good and correct one by another renegade intellectual — me in 2016 — about how there are only six sex positions.)
• Simone de Beauvoir's The Second Sex
• Sigmund Freud
• Freud's pupil Wilhelm Stekel
• Kate Julian's Atlantic article "Why Are Young People Having So Little Sex?"
• William Shakespeare
• The Full Wiki article for "Missionary Position"
• Church of England cleric John Donne
• John Donne's poem "The Sun Rising"
• Albert Camus's The Rebel
• Bonobo monkeys
And to think it could've been 2,603 words shorter with: "You don't have to do any work."