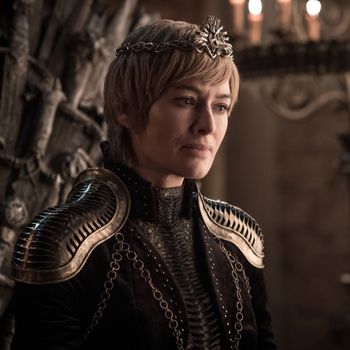 By the end of Game of Thrones, most of the characters' story lines were neatly wrapped up, but the mystery surrounding Cersei's (Lena Headey) pregnancy was never solved due to her death during the fall of the Red Keep. Some fans didn't believe Cersei was actually pregnant, and if she were, there was debate over who was the baby daddy. She told her twin brother-slash-lover, Jaime Lannister (Nikolaj Coster-Waldau) that the baby was his, though her new boo Euron Greyjoy (Pilou Asbaek) was a possible father. Sadly, there wasn't enough time to summon the Maury Povich of Westeros before the very end.
However, at a recent comic convention in Germany, Lena Headey told the audience that there was supposed to be a scene in which her character experienced a miscarriage. And, according to The Wrap, Headey said it would have benefited Cersei's character development to keep it in.
"We shot a scene that never made it into season seven, which was where I lose the baby, and it was a really traumatic, great moment for Cersei," Headey said. "It never made it in, and I kind of loved doing that because I thought it would have served her differently." The scene would have happened during "The Bells" episode when she died alongside Jaime.
Since the show's finale, Headey has been vocal about her feelings toward her character's fate, particularly her lackluster demise. Headey has had mixed feelings about how Cersei died, recently telling The Guardian that she was "gutted" and "wanted a better death" and also saying that it made sense for her to die with her twin.