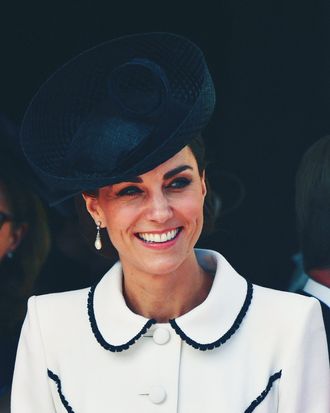 Kate Middleton at Garter Day.
Photo: Tim Rooke/Shutterstock
An extremely royal event took place on Monday at Windsor Castle: Garter Day, which honors the Order of the Garter. The order has been a tradition since Medieval times, and the event calls for knights to dress up in velvet and feathers. There's also a procession with a marching band, and then certain members of the British royal family (and, in this case, also royals from Spain and the Netherlands) travel in horse-drawn carriages.
So you better believe this was a major day for royal hats.
A fancy British event isn't a fancy British event without some elaborate hats, of course — and that's especially true where royals are concerned. Take, for instance, Meghan Markle and Prince Harry's royal wedding. So many hats. Or even the royal-adjacent wedding of Pippa Middleton and James Matthew. And, of course, Kate Middleton and Prince William's wedding, when Princess Beatrice wore this.
Thus, it was only fitting that Monday's event would include some stellar royal hats — not only atop the heads of the British royal family, but also on the visiting monarchs, too. First, let's take in the hats of Kate Middleton and Camilla Parker Bowles, two British duchesses, along with Queen Maxima of the Netherlands (standing to the left of Kate) and Queen Letizia of Spain (left of Camilla).
Those hats sure were fancy, but the rest of the royals in attendance went even further — wearing the velvet-and-feather hat of the Order of the Garter. Here was Queen Elizabeth:
As well as heirs to the throne Prince William and Prince Charles:
And of course, even more velvet-and-feather hats, seen atop Princess Anne and others:
What an exciting time to be a royal hat.