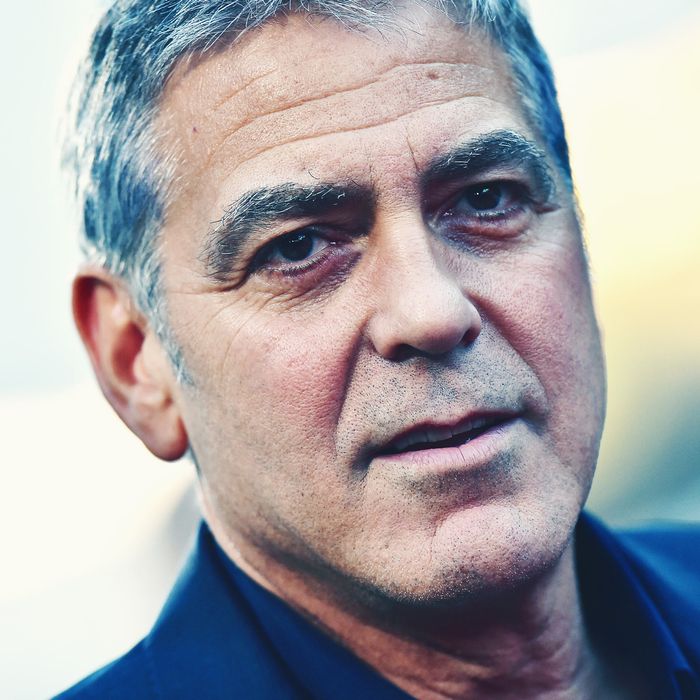 George Clooney.
Photo: Axelle/Bauer-Griffin/FilmMagic
There are so many great things about being a celebrity, it seems. There's the money, the fame, the celebrity friends, and another thing I had not considered until just now, when I opened this post from the Daily Beast: enviable plumbing disasters.
When I saw the story, titled, "George Clooney Has Plumbing Disaster As Obamas Visit Lake Como Villa," I assumed that George had eaten some undercooked chicken and blown out all of the creaky old pipes in his beautiful Italian villa. I felt sad for him, a little embarrassed. These things happen though, I figured, and I was sure the Obamas would be gracious about having to go downstairs to the cold, unfinished basement to use the one still-functioning toilet, while George stayed upstairs eating saltines and drinking Gatorade to regain his strength.
But I should have realized this was not a regular plumbing disaster, this was a celebrity plumbing disaster. The problem? According to the Daily Beast, just before Barack, Michelle, Malia, and Sasha arrived at his villa on Lake Como last week, "Clooney noticed that the swimming pool was half full and the water was like ice. He asked his bodyguard Giovanni to call Dante Pennè, the local Lake Como plumber to sort him out."
Oh.
Pennè told the Corriere Della Sera newspaper that when he arrived, people were upset, and urging him to hurry. He didn't know who the guests were and told everyone, "Let me work, otherwise I won't be able to fix it." When he did fix it, adjusting the pool's thermometer and drain, a thrilled Clooney reportedly came out in a "sweaty Casamigos T-shirt," took a selfie with the plumber.
The cold pool was not the only crisis ahead of the president's visit. Residents of Lake Como were apparently frustrated that the Clooneys had monopolized all of the local gardeners to prepare their estate for the former First Family. The Obamas were in Italy to attend a Clooney Foundation for Justice dinner on Saturday night.
Stars: They're nothing like us.