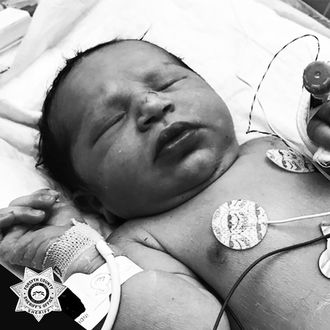 Photo: Forsyth County Sheriff's Office/Facebook
Police in Cummings, Georgia, are still looking for information about a newborn baby who was found alive inside of a plastic bag in the woods on Tuesday, June 6. The case has drawn national attention as authorities attempt to locate her mother.
The infant, who has been nicknamed "Baby India," was discovered around 10 p.m. on the side of the road; according to news reports, a local man named Alan Ragatz and his teen daughters discovered her after hearing the sound of crying and left the house to investigate, bearing flashlights. "There was a poor little baby wrapped in a plastic bag, and we called 911," Alan Ragatz told WSBTV of discovering the infant. "She was alive. She was crying, so we figured that was a good sign. Could have been worse. The credit goes to my girls."
The baby, which was born just a few hours prior, was in stable condition, and still had her umbilical cord attached and part of the placenta, reports say. "I could immediately tell she was reasonably healthy even though she had just been dropped off on the side of the road," Deputy Sheriff Terry Roper said.
The Forsyth County Sheriff's Office has released body cam footage from the moment when officers found the baby in the hopes that the video will encourage anyone with information about the baby's mother to come forward. The infant is currently under the care of the Division of Family and Children Services; per a tweet from the Sheriff's Office, she is now "thriving."