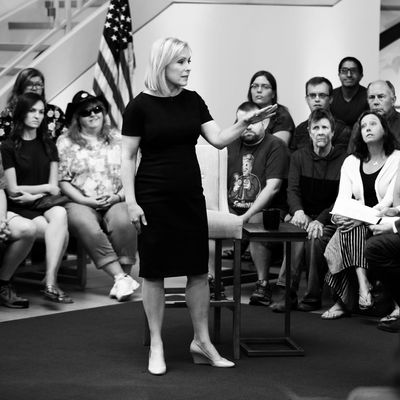 Senator Kirsten Gillibrand.
Photo: Charlie Neibergall/AP/REX/Shutterstock
During her live Fox News town hall, Democratic presidential candidate Kirsten Gillibrand slammed the network's distorted abortion coverage, over anchor Chris Wallace's protests that it was impolite of her to do so.
On Sunday evening, a retired neonatal nurse asked Gillibrand to explain her stance on later abortions; Gillibrand responded that it should always be up to a woman to make the "life-and-death" decisions about when — and if — she wants to have children. Then, she directed her response to Wallace and Fox News, criticizing the network for pushing a "false narrative" around abortion rights and partaking in disingenuous handwringing over infanticide. (After multiple states moved to protect abortion rights — and specifically, third-term abortion rights — earlier this year, Fox News attempted to drum up panic that Democratic lawmakers had legalized "infanticide." In reality, later abortions are typically medically necessary, and also extremely rare: Only one percent of procedures take place after the 20-week mark.)
Wallace cut Gillibrand off in the midst of her comments. "Senator, senator, I just want to say, we brought you here, gave you an hour, we're treating you fairly," he said. "I understand that maybe to make your credentials with the Democrats who are not appearing on Fox News, you're going to attack us. I'm not sure, it's frankly very polite when we've invited you to be here."
Gillibrand, determined to speak to Fox News' misleading coverage of abortion, responded to Wallace that she'd make her point in "a polite way."
"The debate over whether or not women should have reproductive freedom has turned into a red herring debate," she continued on, resolutely. "And what happens on Fox News is relevant because they talked about infanticide for six and a half hours before President Trump's State of the Union … That's not what the debate of what access to care is about in this country."
In comparison to the other Democratic presidential candidates who have also taken up Fox News' divisive town-hall offers, Gillibrand's appearance was slightly contentious, as the New York Times reports that much of her questioning focused on her past. (At one point, her controversial call for senator Al Franken to resign after he was accused of sexual misconduct in late 2017 came up.) In another instance, Gillibrand was asked to comment on the implications of once tweeting, "The future is female." Wallace asked her about the need for male voices.
"They're already there," Gillibrand said. "Do you not know?"