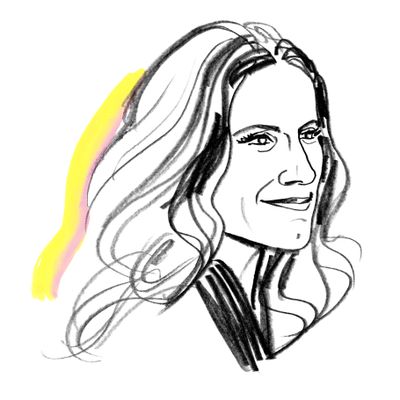 Illustration: Lauren Tamaki
Pride Month is the busiest time of year for Glennda Testone, executive director of NYC's LGBT Community Center, which will host its annual Garden Party for 1,500 people tonight on Hudson River Park's Pier 97. In addition to leading the Center for the past ten years, Testone is a member of the Ending the Epidemic Task Force, which works to end the AIDS epidemic in New York, and she serves as a member of the Bronx borough president's LGBT Policy Task Force. She also sits on the executive board of the City University of New York Institute for Health Equality, and she'll lead a group march at the Pride Parade this Sunday. Testone lives in Asbury Park, New Jersey, with her partner, Jama, a professor, and 5-month-old daughter, Frankie. Here's how she gets it done.
On her morning routine and two-hour commute:
I have a 5-month-old, so my morning has become pretty standard because our little baby, Frankie, wakes up at 6 a.m. on the dot, either crying or cooing. Typically I'll go in, or my partner will go in, and we'll change her and feed her. She just started eating solid foods, and bananas are her favorite, so I give her some pureed bananas and try to have a cup of coffee and finish it before it gets cold. From there I jump in the shower, get dressed, and then I get in the car. I have a long commute. I live in Asbury Park, New Jersey, and my commute door to door is two hours.
It involves about a 40-minute drive, and I either drive to Metro Park Station, or if it's nice out and I want to treat myself I'll drive to Highlands to take the ferry, which is really beautiful. I typically will stop by the Starbucks drive-thru. I used to really dislike my commute, but now with the baby it's sort of my respite — my time to recharge and catch up.
On podcasts she listens to during her commute:
Since moving to Asbury I've become a huge podcast fan. I'm a really big fan of My Favorite Murder, which is a true-crime comedy podcast. It's stories of true-crime told by really smart, human, badass feminists. For the past couple of weeks I've been listening to a podcast called The Breakdown. It's done by Shaun King, and it's essentially a podcast about racism in America and how people can get involved to make changes for the future. So a little true-crime and a little inspiration, and I'm off to work.
On prioritizing:
My go-to is handwritten to-do lists. I really love Moleskin and I write down everything I need to do for a given week, and then I have sections for each person I talk to on a weekly basis: my direct reports, my board president, and I keep track of topics that I need to catch people up on. It's the way I take what needs to happen for the organization and pare it down into, What do I need to do to move this forward?
On being a new mom at work:
I feel a responsibility as the boss not to hide those responsibilities. There are a couple of people on my team who are also newer parents, and it's really important to talk about what's going on for us and what we all need. We try to be as flexible around people's schedules as possible. Being in the office at the Center is important, but we don't all need to be in the office every day at exactly the same time. So we really try to get together and plan our schedules so there's always someone there, and we all manage to take care of our kids, and get the job done for the organization and the community.
On staying organized at home:
Scheduling is always a negotiation between my partner and I. With a newborn, and two full-time jobs, and a lengthy commute, we really need to plan. We have a dry-erase board. Any time either of us is going to be in the city, we write down whether the dog walker is coming, or if the babysitter is coming. My partner and I both tend to work from home on Fridays, so we'll write out when we have calls.
On making time for her partner:
We really try hard to go on a date on Friday nights. The babysitter comes on Friday from noon until about 8 p.m. Around 5 or 6 we'll try and go out to a restaurant and have a conversation without work, without the baby, and just reconnect. We love Talula's, which is a pizza place. Pascal and Sabine is a French restaurant that we also love.
On fighting burnout:
I try to meditate. I'll be honest: I don't always do it. But I try to do it for ten minutes in the morning when I can, though it's become harder with a newborn. We have some family that lives here in Asbury Park, and every Sunday we have a family dinner at one of our houses to re-center ourselves before we go into the week. Support from family, chosen and biological, is really great to help with burnout. I also like to read a little bit before I go to bed — some fiction, just a good story that takes me out of my own head and puts me somewhere else. I really loved The Seven Husbands of Evelyn Hugo [by Taylor Jenkins Reid].
On her mentor:
My first job was at GLAAD and the executive director at the time there, Joan Garry, became one of my mentors. Seeing her as an executive director of the organization I thought, oh I would love to do that someday. She gets to talk to people and raise money for this important cause. She's delivering these services and programs that are really making things better for people, for the world. That's what I want to do for the rest of my life.
On advice she'd give to her younger self:
I would say let go of trying to predict the future. Your expectations are all wrong. But your life is going to be great in ways you have no idea. Why waste time?
On preparing for Pride:
June is always one of our busiest months with Pride. This June especially because it's the 50th anniversary of the Stonewall Riots. We have our garden party, a queer food event to kick off Pride. We welcome about 1,500 people to a celebration on the pier. It's a space for us to surround ourselves with food and friends, and gather our strength for the week ahead. My advice for Pride for everyone is to drink a lot of water. I'm not joking. Everywhere I go, everyone I meet with, especially for people who are professionally queer, it can be an exhausting month. So staying hydrated is practical and important.
This interview has been edited and condensed.