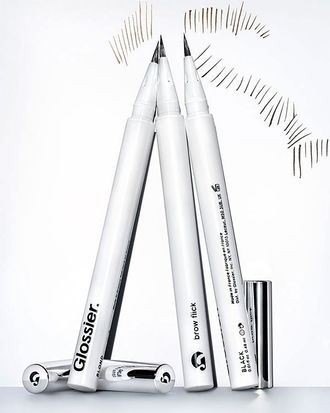 Boy Brow, Glossier's beloved and best-selling makeup product, now has a new "best friend" named Brow Flick, who just joined the lineup today. Brow Flick is a precise brow pen designed to fill, extend, and define your brows in ways that Boy Brow's sweeping brush just can't.
Does Boy Brow feel threatened by this shiny, younger newcomer who offers more control and precision to create the frame of the face? The more petty and less-evolved among us probably would be, but it seems Boy Brow is nothing but happy to share the spotlight with another brow product (at least in the public eye).
So what's Brow Flick doing here? It was birthed to better help you create "the ultimate Glossier brow," which is "face-framing, fluffy, full, and always natural-looking." If you don't own a set of naturally full brows, Brow Flick helps turn your sparse, unkempt brows into defined ones that still look the correct amount of natural and unkempt.
Brow Flick conveniently comes in the same three, smudge-proof sheer shades that align with Boy Brow's (Blond, Brown, and Black) so you can draw with Flick to create more brow and top it off with Boy Brow to create even more brow (just be sure to let Flick set for 15 seconds). Or, simply seal your Brow Flick handiwork in place by going over it with Boy Brow in Clear, the one shade Boy Brow has that Flick doesn't and never will.
You can grab a solo Brow Flick for $18 and gently introduce it to your Boy Brow at home, or buy both together as a bundle for $30 to avoid any awkwardness.
If you buy something through our links, New York may earn an affiliate commission.