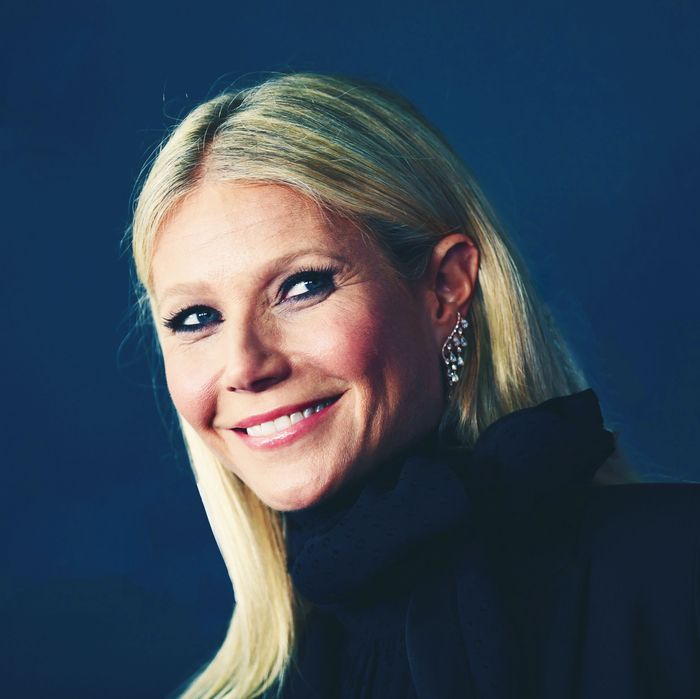 Gwyneth Paltrow.
Photo: VALERIE MACON/AFP/Getty Images
Earlier this week, Goop founder and Jeff Bezos ghosting-victim Gwyneth Paltrow announced in an Instagram post that she is launching a men's section of her lifestyle brand.
"From now on, we will have a Men tab on our site as well as a monthly newsletter devoted to you — from health to travel to an occasional circadian-rhythm-supporting light bulb," Paltrow wrote in the post, which included pictures of her new husband, Brad Falchuck, and other important men in her life. She also noted the launch of a new Goop Fellas podcast, and G. Label Men, "a collection of quality classic knits made in Italy."
"So ask yourself," she added, "Are you crystal-curious? And even if you're not — are you, simply, curious? About the world, how to fit into it, what it means to live in 2019."
"Besides, men can make cookies with avocados instead of butter, too. Let's not put people in boxes."
Finally — finally! — men will no longer be put in boxes, they will be put in separate website verticals. Finally, they will no longer be deprived of news about infinity scarves for their dogs, and the Implant O'Rama at-home coffee enema, and Psychic Vampire Repellent. And finally, we will (hopefully) learn the answer to this question: Where should men put their $66 jade vagina eggs?
(NB: Medical professionals have repeatedly urged humans not to stick rocks in their yonis, and Goop recently settled a lawsuit that said it made faulty scientific claims about the wonders of the egg.)
But maybe some men will want to experiment with the jade eggs in order to get the full Goop experience. Sure, there's one obvious place to stick it, but a real ally would perhaps get more creative and stick the egg in his mouth, so as to be quiet and let women speak for a while. Just an idea. Like Goop, I'm not a doctor.