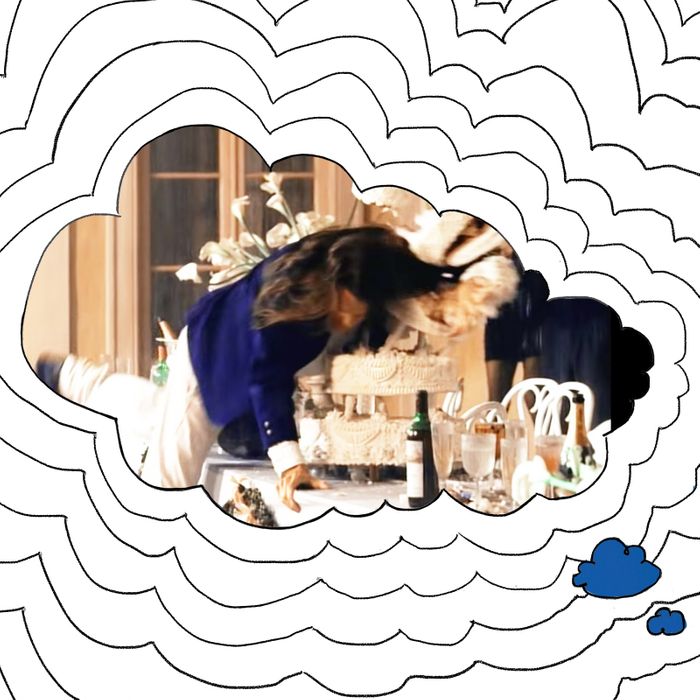 Photo: Guns N' Roses/Youtube
I Think About This a Lot is a series dedicated to private memes: images, videos, and other random trivia we are doomed to play forever on loop in our minds.
Soon after getting engaged last fall, I sat down with my fiance to talk wedding details. We'd do it at home, we decided. We'd serve our favorite foods, and plenty of wine. The guest list very nearly wrote itself. And then I dropped a bomb: we absolutely had to play the lengthy 1991 Guns N' Roses power ballad, "November Rain." "But we're having a disco band," my fiance protested. No matter, I said, they could learn it! I mean, had he ever even seen the "November Rain" video, a 9-minute epic with the flavor of a jelly bean that looks like lemon and turns out to be earwax?
He had seen it, he reminded me: I played it on one of our early dates.
The video, directed by Andy Morahan, cost an epic $1.5 million, a mere drop in the bucket for your average celebrity nuptial. It's centered on a wedding that ends comedically and a marriage that ends tragically. Interspersed between scenes of Axl Rose playing the piano flanked by a crowd of violinists and Axl Rose tossing and turning in bed, there's an over-the-top church ceremony. Stephanie Seymour, Axl's actual girlfriend at the time, plays the bride, clad in a mullet of a dress that's mini in front and business in the back; Axl is the groom in a gold brocade Liberace-esque suit. There's humor to temper the decadence, a kind of goofy play you don't expect. The priest looks like Joe Pesci in a toupee. When Slash can't find the rings, Duff saves the day: He's had them on his leather-gloved pinky the whole time!
Midway through the ceremony, Slash leaves the church to stand bare-chested in the otherwise empty desert for a face-melting guitar solo; in the end, his belly button must be full of dust, but the cigarette dangling from his lips remains intact. Later, the happy couple celebrates with guests at an outdoor reception at what appears to be either an Italian villa or the sort of New Jersey wedding venue that's called "The Italian Villa."
Then, mid-dance, comes disaster. An out-of-the-blue downpour—November rain, don't you know it!—strikes, causing guests to run for cover. Drinks are spilled, glasses are broken. An unnamed guy with a flowing brown mane and khakis jumps sideways through the many tiers of the wedding cake in his urgent effort to reach safety, even though it's only rain and presumably people could have just walked calmly to another location. The last scene here is of a ruined table, blood-red wine spilling across it. This is what's called foreshadowing.
Later—not much later, because no one has aged even slightly—the bride has died, and we're back at the church. This time, the circumstances are darker: She's in a casket, her face half covered by a mirror, and it's all very mysterious. One thing is clear, though. The joy has turned to pain, as expressed most keenly by the tormented visage and haunting vocal stylings of Axl, who now can't sleep at night without the aid of pills.
I admit, "November Rain" is a weird song to want to play at a wedding. Then again: From the ridiculous, performative ceremony to the ruined cake, Guns N Roses seem to have known quite a lot about the tyranny of the wedding industrial complex, how this thing supposedly about love is also about patriarchy and capitalism and long-held expectations and the shoulder-crushing weight of our many unspoken disappointments.
The video doesn't just tackle the big day, it delves where others fear to tread, wedding-wise—into the messy lifespan of a couple, even if that lifespan is far too short, and mostly fictional. As for me, a person with a certain amount of entrenched cynicism about that which culture deploys as "necessary" and "legitimizing" and "vitally important," the video reminds me comfortingly that weddings are one moment, just like anything else: "So never mind the darkness, we still can find a way … 'Cause nothin' lasts forever, even cold November rain."
When wedding planning goes off the rails—which happens more and more frequently as you get closer to the big day, gasping at the last remaining funds in your bank account and checking Weather.com and wondering if guests really expect or even want to take home a jar of colorful sand as a souvenir and whether you and your future spouse have gone about this whole thing completely the wrong way —I conjure an image of that guy jumping through the cake to get out of the rain, a totally unnecessary effort to get to the other side of a table.  So much of the wedding-related stuff we do is borderline ludicrous (just like the video), but watching it, I remember what really counts: Love, friendship, and Axl's flowing mane. Mr. Wedding Cake Jumper is every person planning a wedding, at one point or another. It doesn't go perfectly, disasters occur, things get wet. But he lands on the other side. And maybe that's where the best is yet to come.
Another thing I think about a lot is how Axl Rose supposedly completed the song, which he'd been working on for a decade. According to the blog Uproxx, "he instructed everyone to leave him alone in the studio with just a bucket to use as a bathroom until he finished the vocals. Eight days later, they returned to Axl asleep, covered in his own waste and empty pizza boxes."
Sounds like a wedding to me.