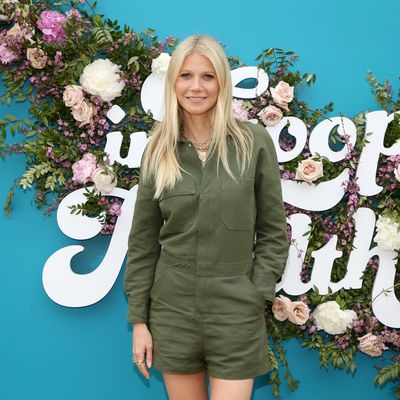 Photo: Phillip Faraone/Getty Images for goop
The ideal husband, according to Gwyneth Paltrow, lives somewhere else. At least part of the time.
Vanity Fair reports that in an interview with The Sunday Times over the weekend, Paltrow said she and her husband Brad Falchuk, whom she married last year, inhabit separate homes in Los Angeles. Although they do spend four nights a week together and Paltrow has a schedule so hectic she legitimately has the capacity to misapprehend which blockbuster superhero movies she's appeared in. Falchuk goes back to his place when his kids, Isabella and Brody, are staying with him. It's all very practical and lovely, and probably a set-up busy rich people come up with all the time, though perhaps not so consciously.
The Goop founder and actress added that she came up with this arrangement after consulting with her intimacy teacher. She says it creates a "polarity" in her marriage that works for her, and we're all just gonna pretend we know what that means. Paltrow told the Times that her friends also approve, saying, "All my married friends say that the way we live sounds ideal and we shouldn't change a thing." Making your husband sleep over is, of course, the dream.
This is not entirely unexpected from the woman who "consciously uncoupled" from her first husband, Coldplay frontman Chris Martin, in 2014. Martin, by the way, has a dedicated room in her home. The two have a daughter, Apple, and a son, Moses, together.
The multimillionaire's version of buying two twin-size mattresses you sometimes push together, or brilliant lifestyle rebranding of varied real-estate portfolio as relationship choice, or both?