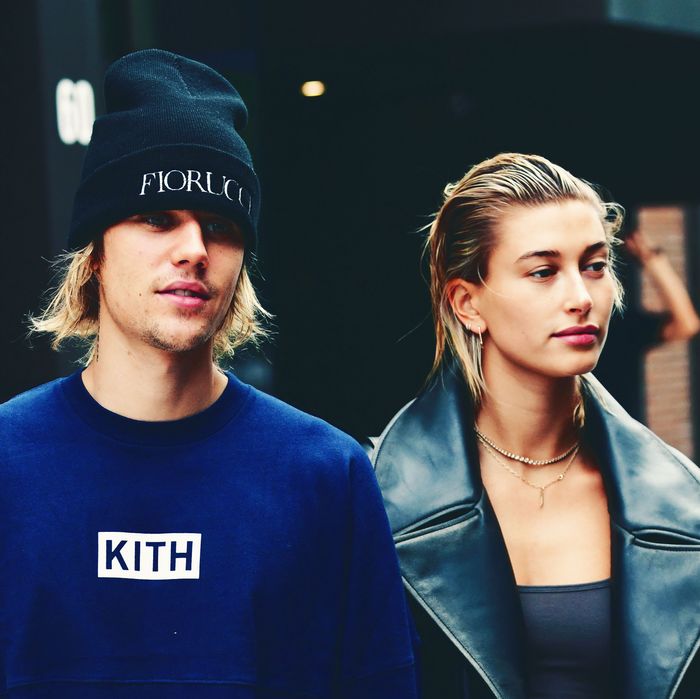 Photo: James Devaney/GC Images
Hailey Bieber's hotly anticipated Bieber Beauty may not come to fruition in the ambiguous form we previously thought it would. The model filed for the trademark back in April, but the Blast is now reporting that it was denied — not because the world doesn't have a Bieber Beauty–sized hole, but because that hole had already been set to be filled years ago by a different Bieber.
In a wacky, heart-warming, rom-com worthy turn of events, it turns out Hailey's now husband, Justin Bieber, already filed a trademark for "Bieber Beauty!" 16 years ago!!! According to the Blast, Hailey's was refused "due to a 'likelihood of confusion' and 'similarity of marks' to Mr. Bieber's trademark, which, like Hailey's, was registered for products like cosmetics, fragrances, soaps, shampoos and lotions.
Did 9-year-old J Biebz already have his entrepreneurial heart set on creating a spiritually present deodorant way back when he had that adorable bowl cut with bangs? Or, did he have his romantic heart set on getting things sorted out for the future love of his life way before he met her in 2009? Did he simply want to take care of all the mundane red tape stuff so she wouldn't have to go through the arduous process of filing for a trademark which must carry some semblance of stress and urgency now that the realm of celebrity beauty brands has become a crowded and congested space?
Considering current-day Justin penned his wife a moving and public love poem on Instagram, I'm going to go with the latter. This is modern love at its finest. They were meant to be. The bar has officially been raised. Get you a man who can do both; a man who maybe wants a beauty line for himself, but also maybe just wants you to have your own in the end, who can say.